CCTV pays attention to the transformation and upgrading of sports equipment manufacturers in Dongguan
13-04-2023
On April 2, the "First Time" column of CCTV's financial channel broadcast the report "New Demand and New Business Opportunities Drive the Transformation and Upgrading of Sports Equipment Manufacturers". The increase in sales has brought new business opportunities to production companies, and companies have also improved product quality through technological empowerment.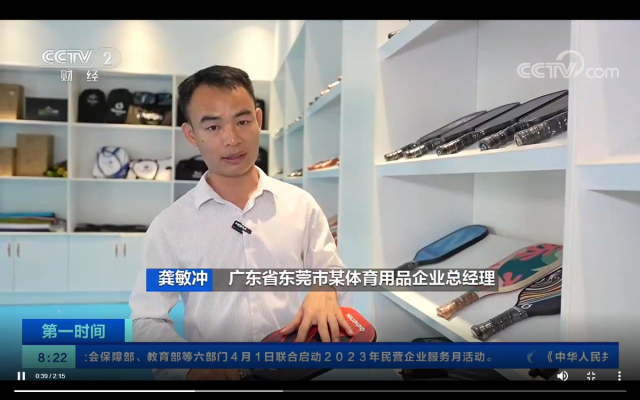 The program reported on Dongguan Mingxuan Carbon Fiber Technology Co., Ltd. in Dalang Town. The company is a production-oriented enterprise integrating the production of carbon fiber boards, carbon fiber tubes, carbon fiber products and CNC processing. The pickle racket brand Niupipo created by it and Haofang Group (cross-border e-commerce) entered the market earlier and has a good reputation. It is a frequent visitor to the BestSeller list of the pickle racket category in the United States.
In the program screen, in the pickle ball equipment production factory of Dongguan Mingxuan Carbon Fiber Technology Co., Ltd., a batch of rackets that have just rolled off the assembly line are about to be sent to Qingdao. According to reports, more than 90% of the company's business was exported a year ago. Now, due to the rise of domestic pickleball equipment market demand, they have shifted 20% of their business to domestic sales.
Gong Minchong, general manager of Dongguan Mingxuan Carbon Fiber Technology Co., Ltd. introduced the product in the program, "Our product is professionally designed according to the size of children. It has a hole to reduce wind resistance and the center of gravity of the ball will be different. "
The program also reported on Dongguan Sipoas Sports Goods Technology Co., Ltd. in Humen Town. The company has continued to cultivate smart sports equipment for 15 years, insisted on building its own brand, and independently developed technologies. Now it has more than 230 national patents and occupies an international market share. The amount exceeds 50%.
In 2018, Dongguan Siboasi Sports Goods Technology Co., Ltd. moved to the domestic market, and personalized sports products were designed according to different application scenarios and applicable groups. This year, the company plans to develop different products for different consumers in the three scenarios of campus, park and family. For example, a multi-person rowing machine used on land, a mobile tennis wall that can be trained by one person, etc.
"For example, the basketball automatic ball-serving machine equipment suitable for children in the family. The frequency of its serve is 4 to 5 seconds. We control the speed of serving at 20 kilometers to 30 kilometers per hour. For adults, the speed is generally 40. to 60 kilometers per hour." Wan Houquan, the founder of Dongguan Siboas Sports Goods Technology Co., Ltd., introduced in the program.