899 table tennis shooting machine from Siboasi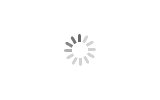 899 table tennis shooting machine from Siboasi
Siboasi

China

In 3 days if small quantity

In stock
899 siboasi table tennis training machine
is with remote ,could adjust speed,frequency,angle,rotation etc.

Our 899 table tennis ball training equipment is very popular in China,
it is in Black color,could shoot 35-90pcs per minute.

Siboasi ping pong ball shoot machine 's quality
is kind stable with years professional experience ,
and having 2 years warranty for all our clients , with
our high efficient after-sale service team,clients do not
need to worry about the quality at all .
Professional table tennis ball device 899 model :
Playing table tennis with table tennis shooting robot is good at :
1. Prevention and treatment of myopia: Playing table tennis with table tennis training machine can make the eyeballs move continuously, enhance blood circulation, and improve the function of the eye nerves, thereby eliminating or reducing eye fatigue and playing a role in the prevention and treatment of myopia
2. It can invigorate the brain and puzzle: The sphere of table tennis is small, fast, rapid conversion of offense and defense, and rich and diverse technical play. It is necessary to consider not only the use of technology, but also the use of tactics. Table tennis requires the brain to think fast and nervously, which can promote the blood circulation of the brain, supply the brain with sufficient energy, and have a good brain function.
3. Can improve coordination: Playint ping pong ball with table tennis equipment, there must be a certain degree of explosiveness, but also a high degree of precision in movement, so that it can be eye-catching, hand-knowing and step-by-step. Improve the coordination and balance of the body
4. Provides a way to decompress: regardless of study or work, every day is more or less a little depressed, playing ball with table tennis training machine can make the brain's excitement and inhibition process alternate reasonably, and avoid excessive nervous system
5. Can make athletes have good psychological quality: due to the characteristics and exercise value of table tennis shown above, paying with table tennis robot , the table tennis players and enthusiasts of the sport have gradually formed good psychological qualities and surpassed ordinary people in some other aspects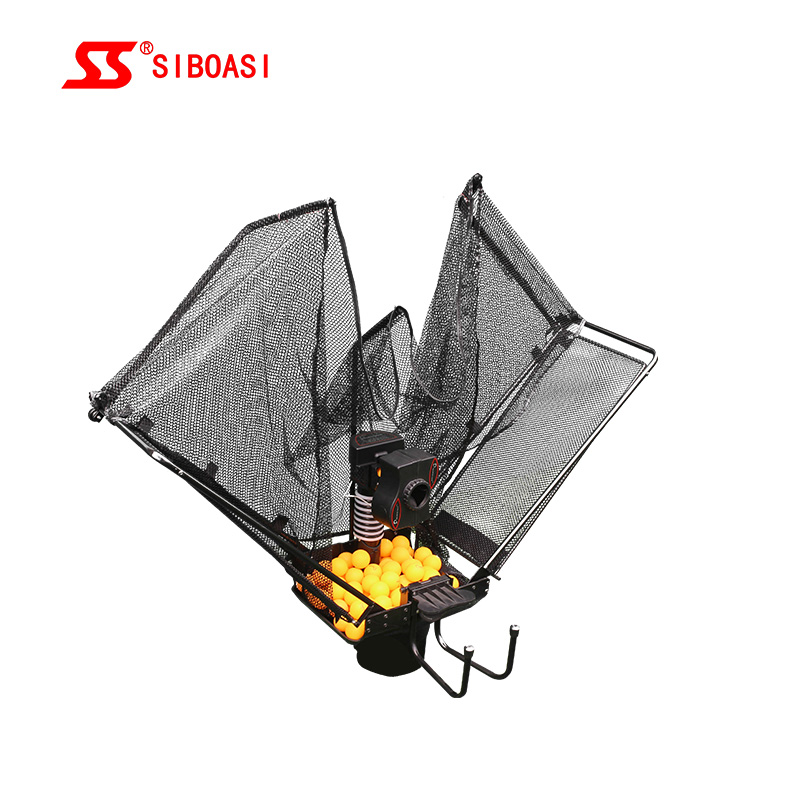 Features of Table tennis ball launcher machine 899 :
· Double-end serve (optional single serve), falling point is not fixed. You can generate top spin, backspin, as well as any combination of those and sidespin
· Siboasi Best table tennis machine for tranning and have fun with your teams,family and friends
· Large capacity, it will accommodate about 110 table tennis
· Easy to install and used,do not worry the instruction whether in Chinese or English
· New table tennis serving machine to configure the wired remote control to allow you to better operate the use of various functions! You can have no need to leave the table
· Spin Ball : Twist the spin button to create a spin that suits you. Different upswing gears, combined with the corresponding downspin gears, can modulate different spins. The ping pong robot can deliver 36 kinds of spinning ball.
· Ball Frequency : The twist frequency button adjusts the frequency of the ball to suit your needs. Rotate from left to right, the speed is adjusted from slow to fast;(0-5 files).
· According to your own preferences, adjust the position of the machine
· Easy to install, no tools or equipments are required. You could also adjust the position of the machine according to your needs. Small and light weight, easy to carry.
· Capacity : Fill the serving machine set ball container full with table tennis, approximately 110 ping-pong balls could be put;(ping-pong balls no included)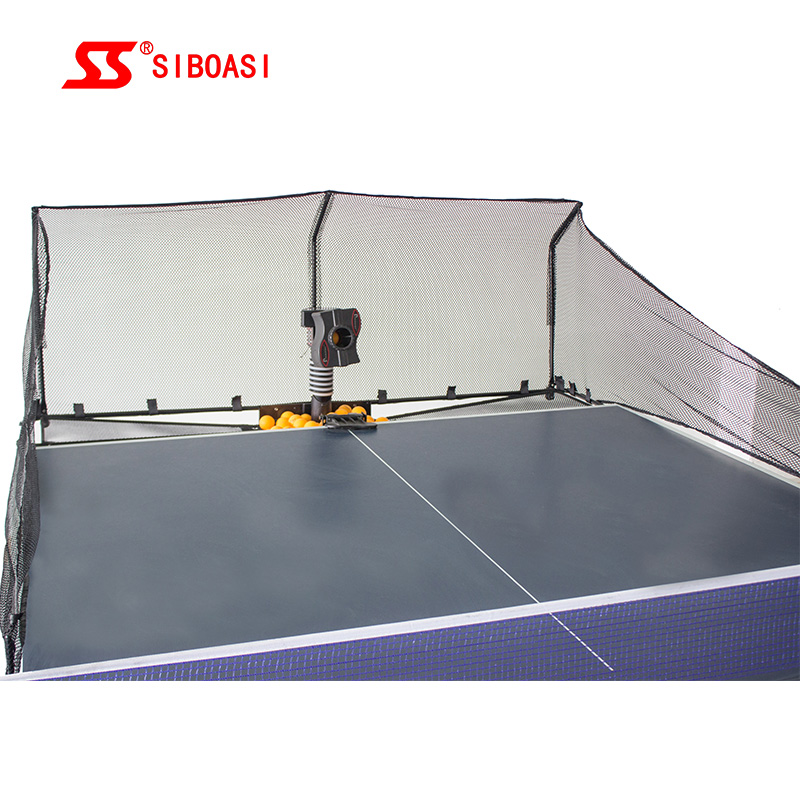 Parameters of Siboasi table tennis thrower :
Rated voltage: 100V-240V
Rated power: 36W
Arc adjust: 7 angle setting
Ball speed: 4-40M/S Ball out
frequency: 40-70/ minutes
Spin direction: 2 wheels drive
Swing frequency: 0-5 level swing speed adjust
Out-ball frequency:0-5 level can be adjusted
Ball switch: Short ball/long ball switch
Package size: 41*36*32CM
More below of this ping pong ball robot for playing :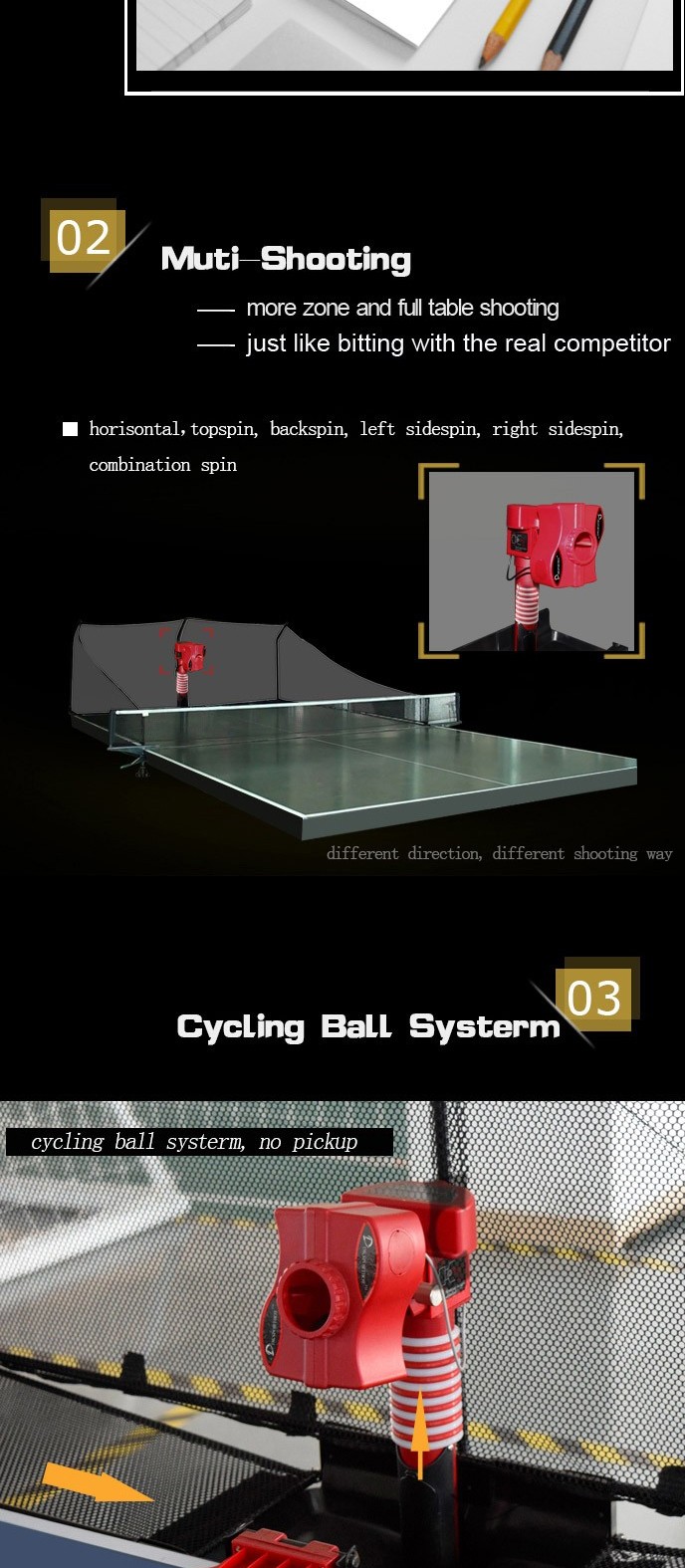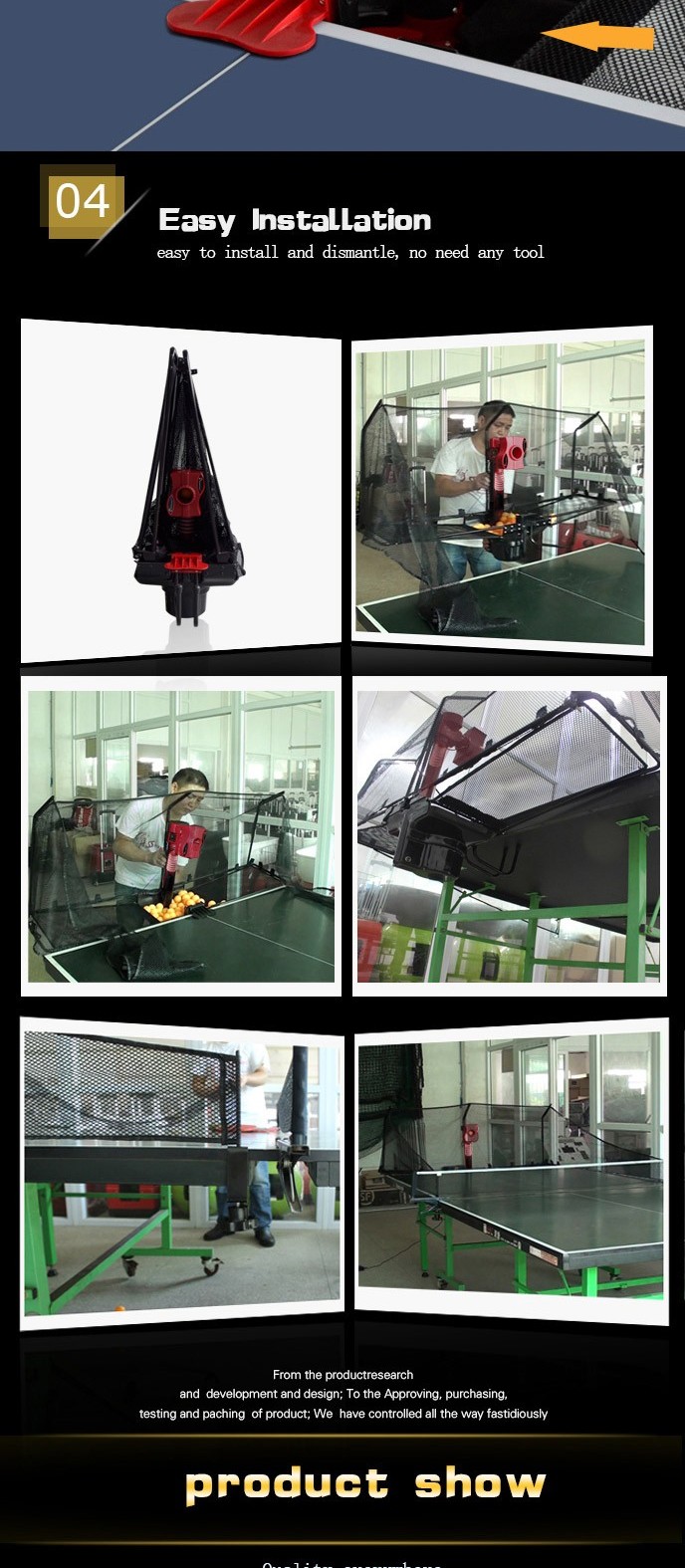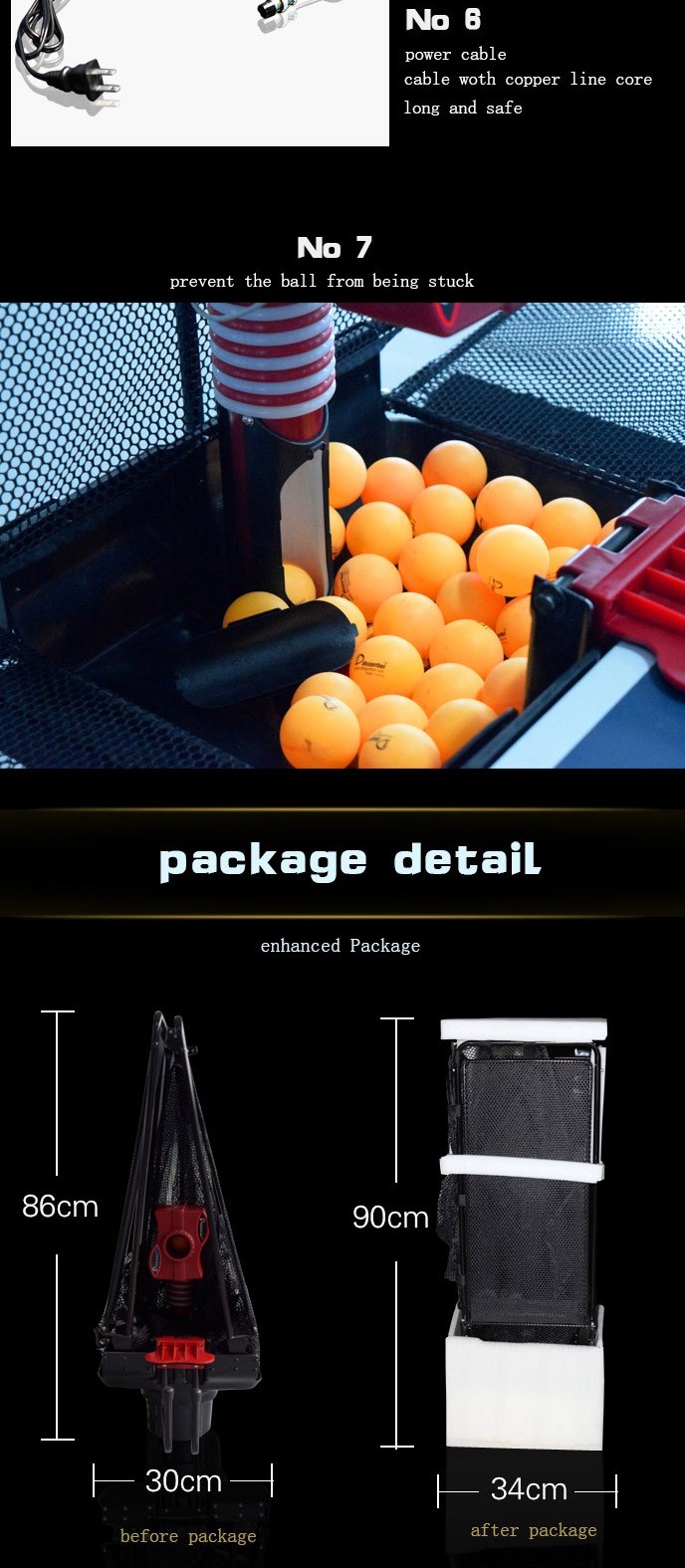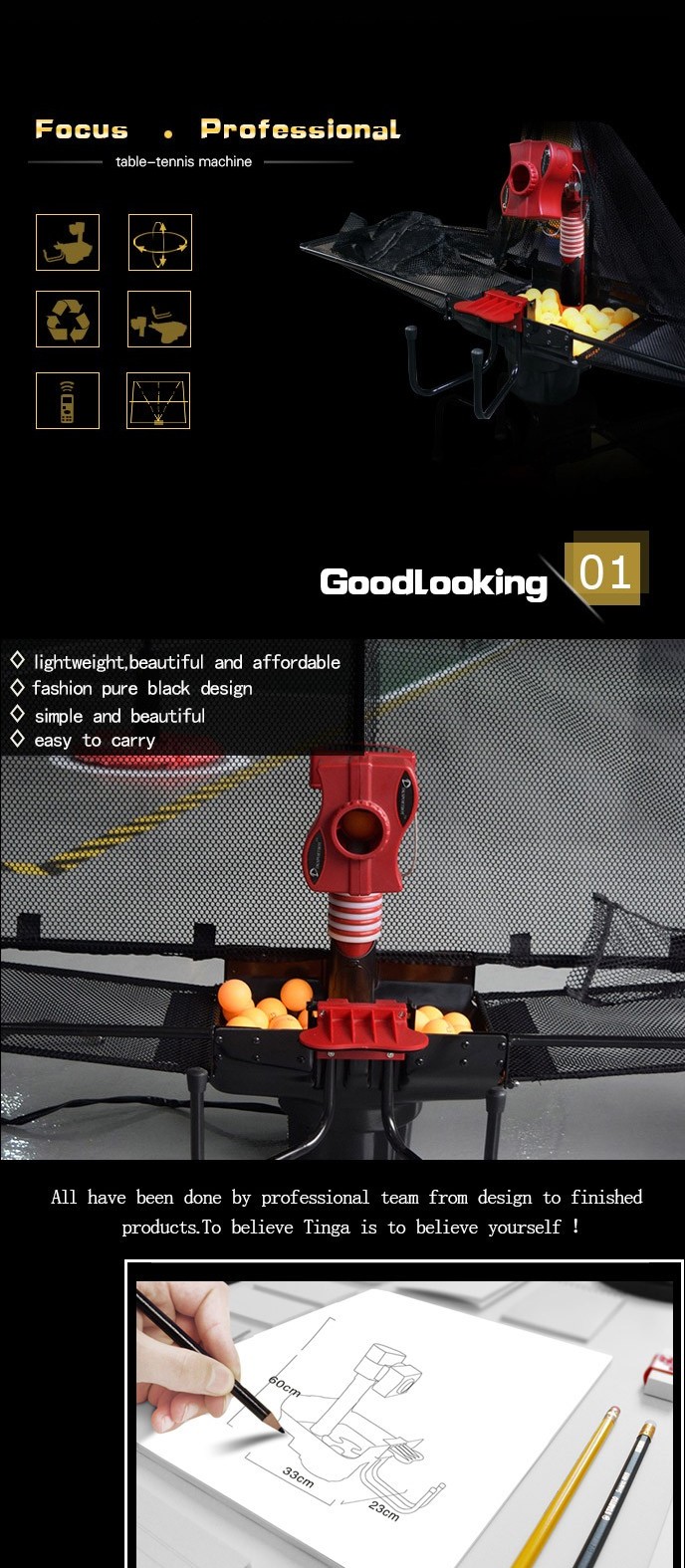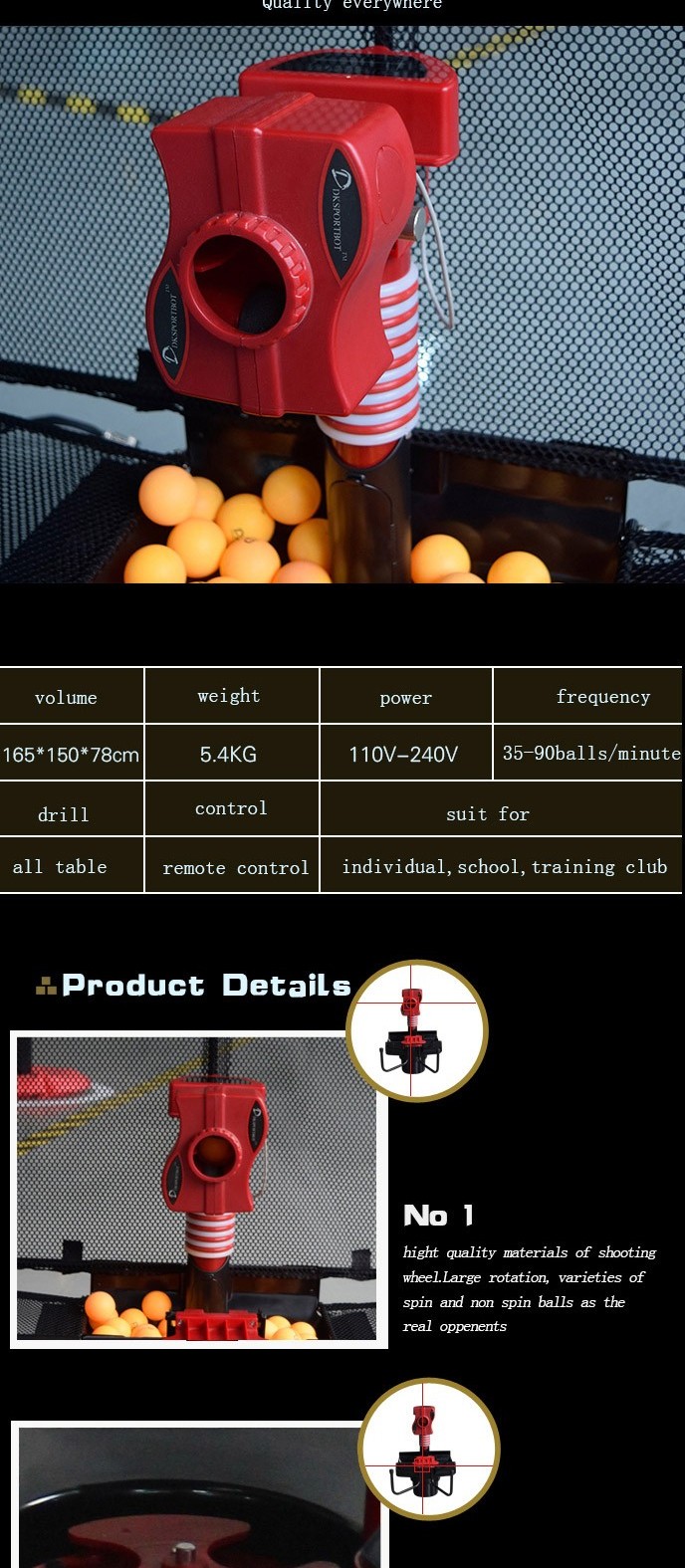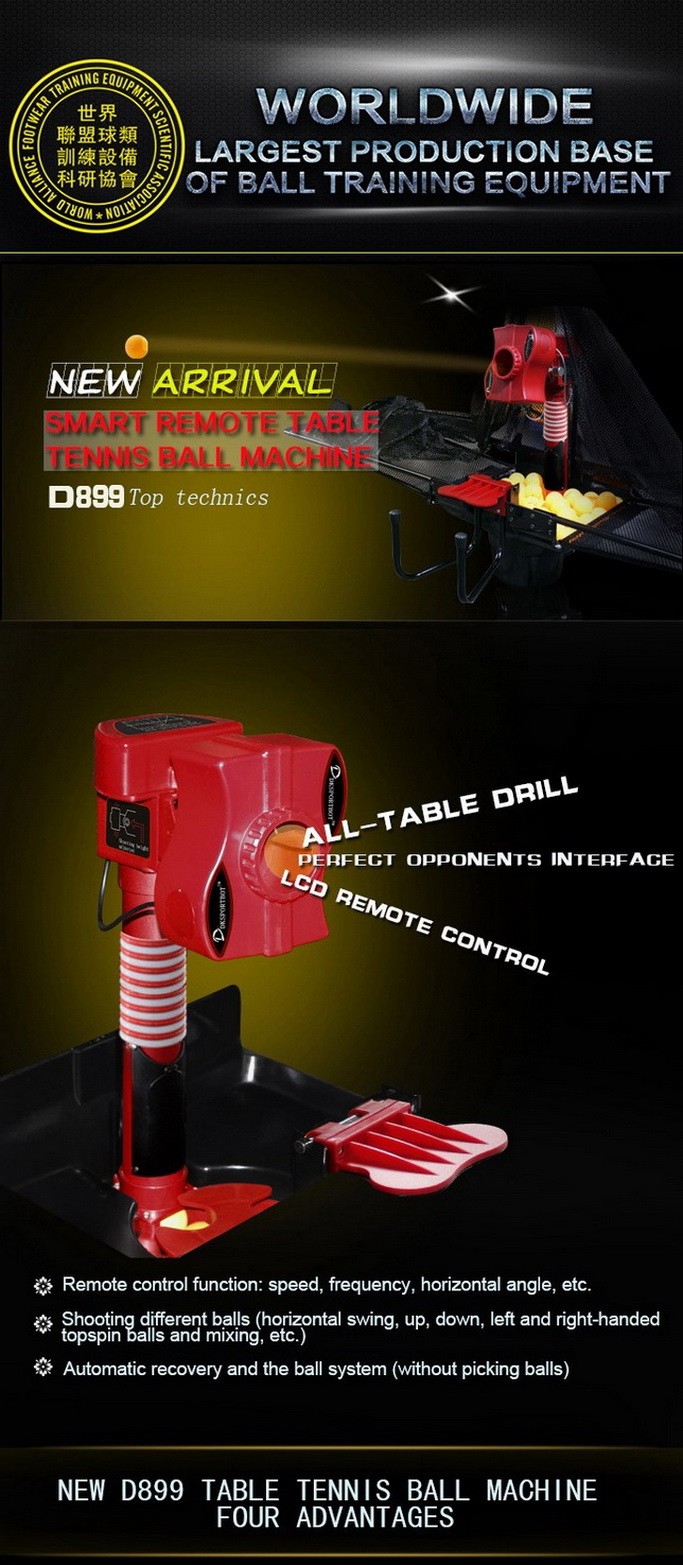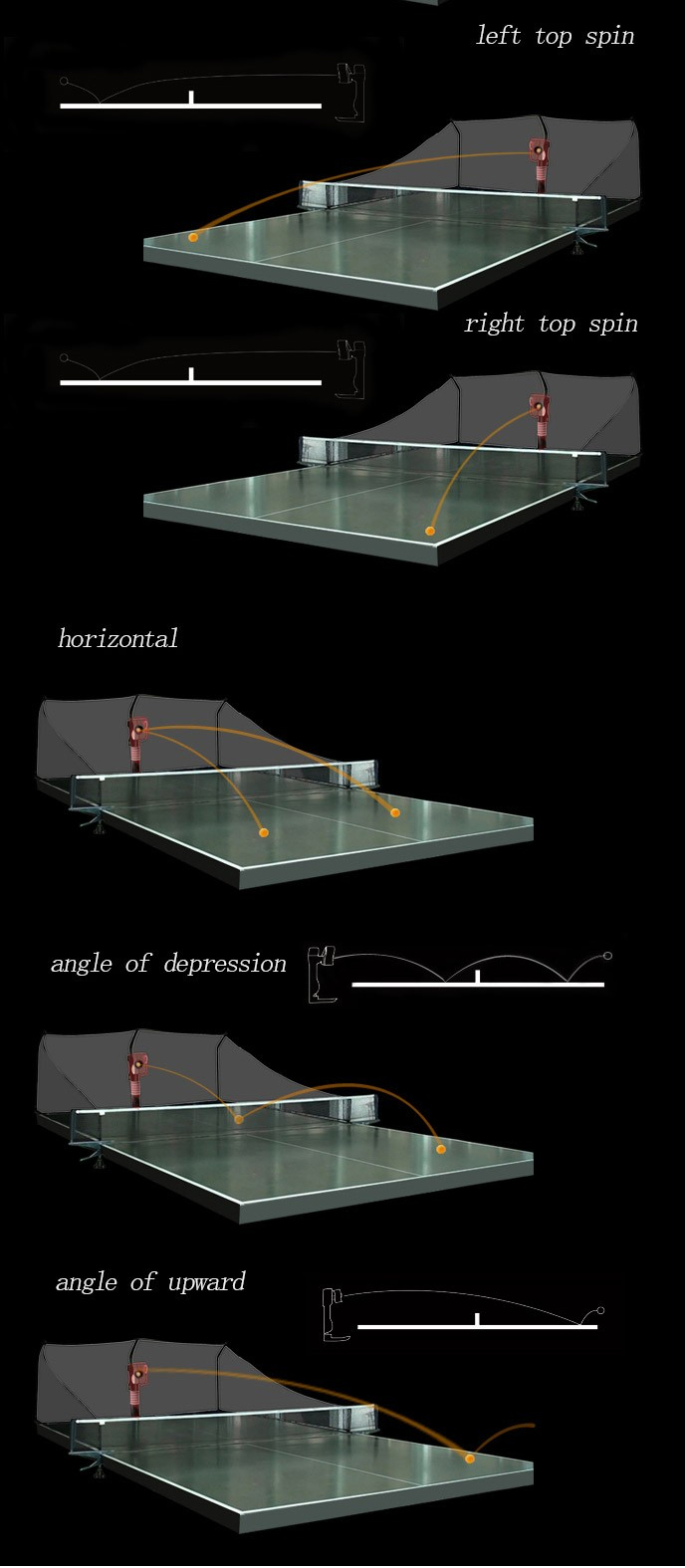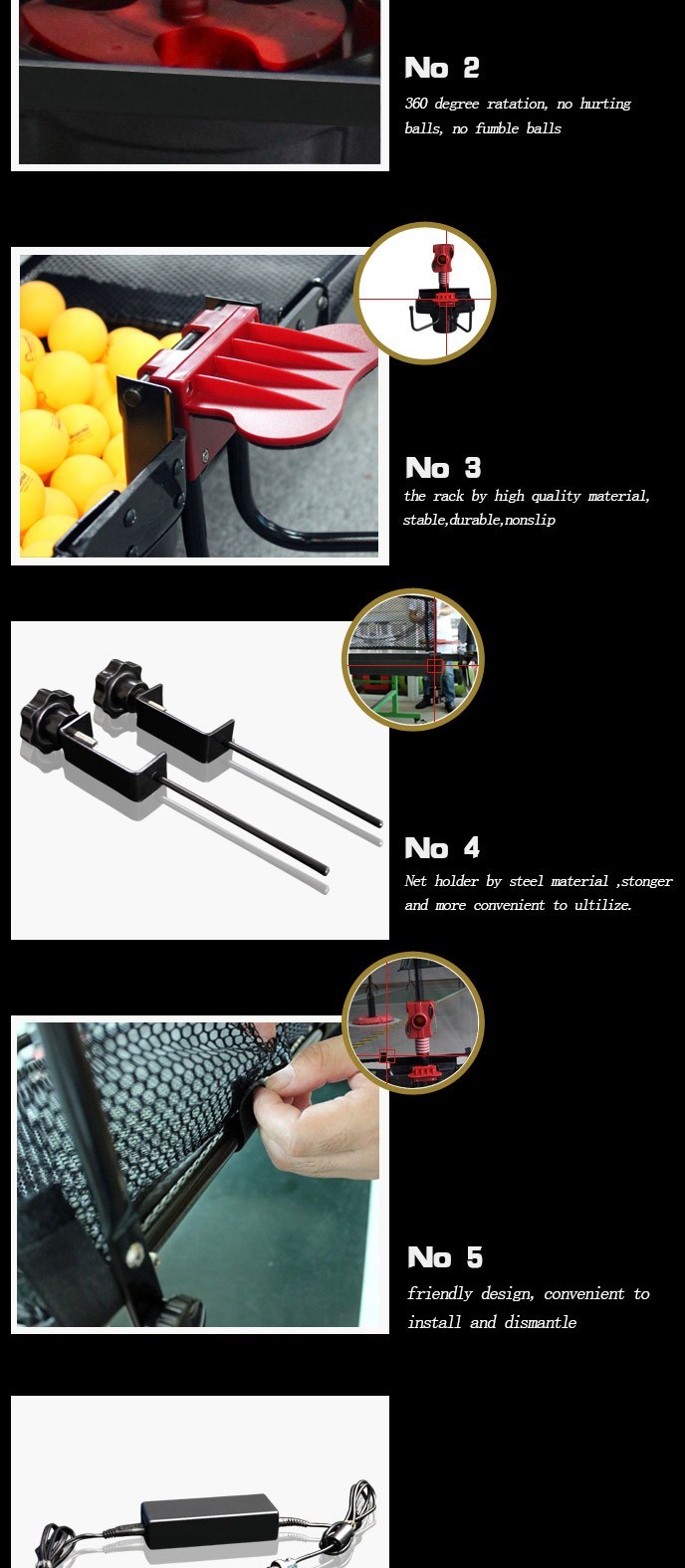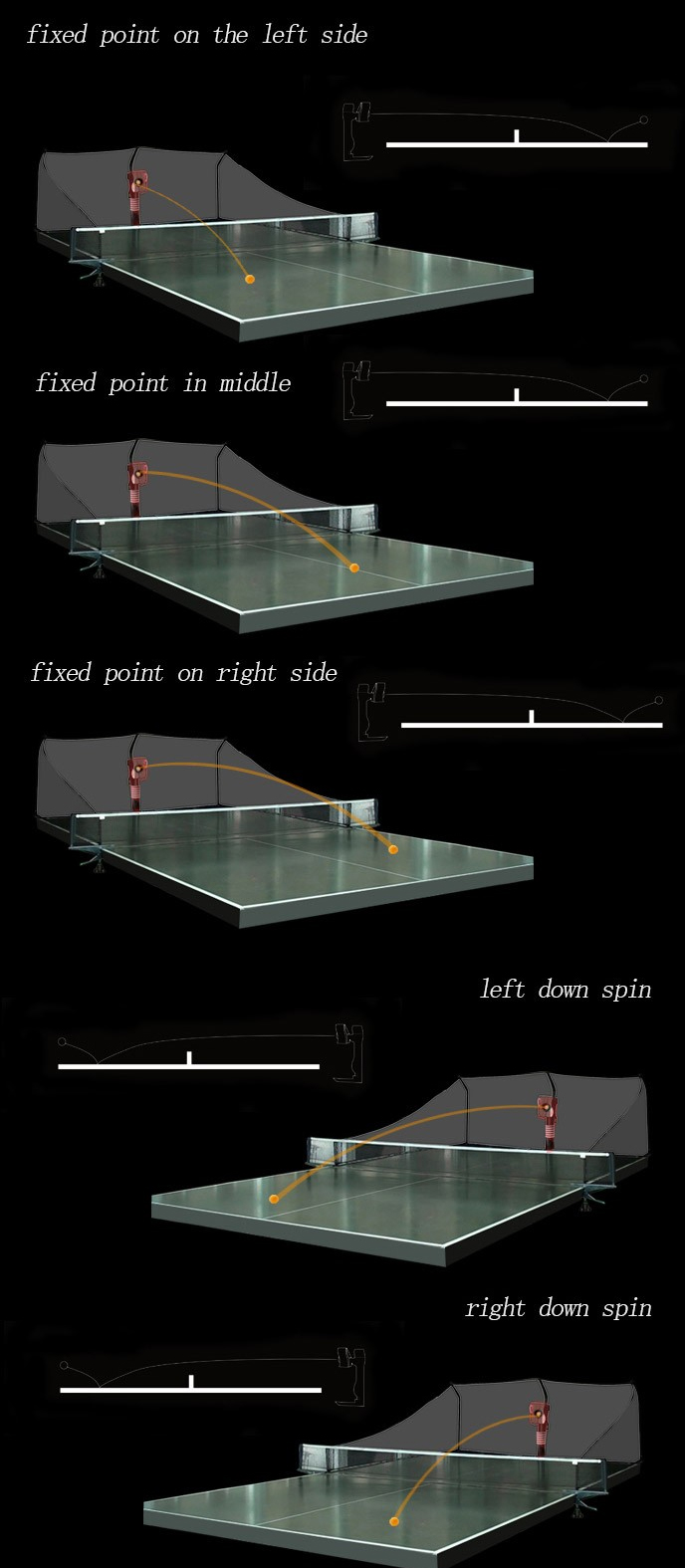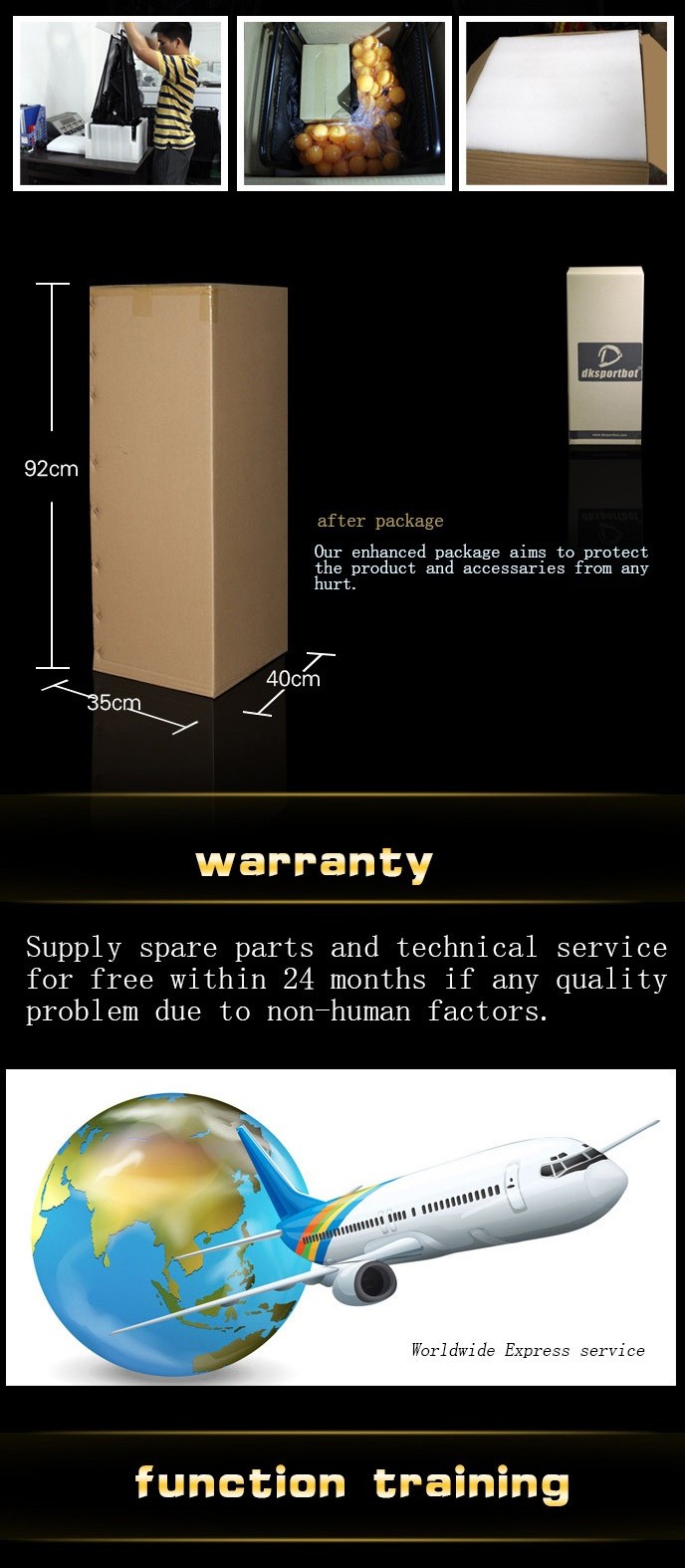 Table tennis ball device 's good feedback from siboasi clients :