economical model 2025 badminton playing machine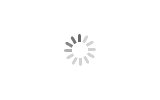 economical model 2025 badminton playing machine
Siboasi

China

In 3 days if small quantity

In stock
If you want to find cheap shuttlecock training robot model,
our 2025 is the best option for you .

Siboasi 2025 economical shuttlecock feeder machine model is good for start- learning players,
it costs not high, badminton players love it very much .

Siboasi brand badminton shuttle feeder is famous in China, quality is kind stable with
years professional experience for ball shooting machine ,and we have 2 years warranty
for all our clients , pressional after-sales service team are available in 24 hours ,
the quality is guaranteed for all clients .
Siboasi smart badminton practice equipment :
Cheapest Badminton Shooting Machine S2025
The most economical badminton shuttlecock machine model designed from Siboasi.
Here we can check the details of the badminton machine as below: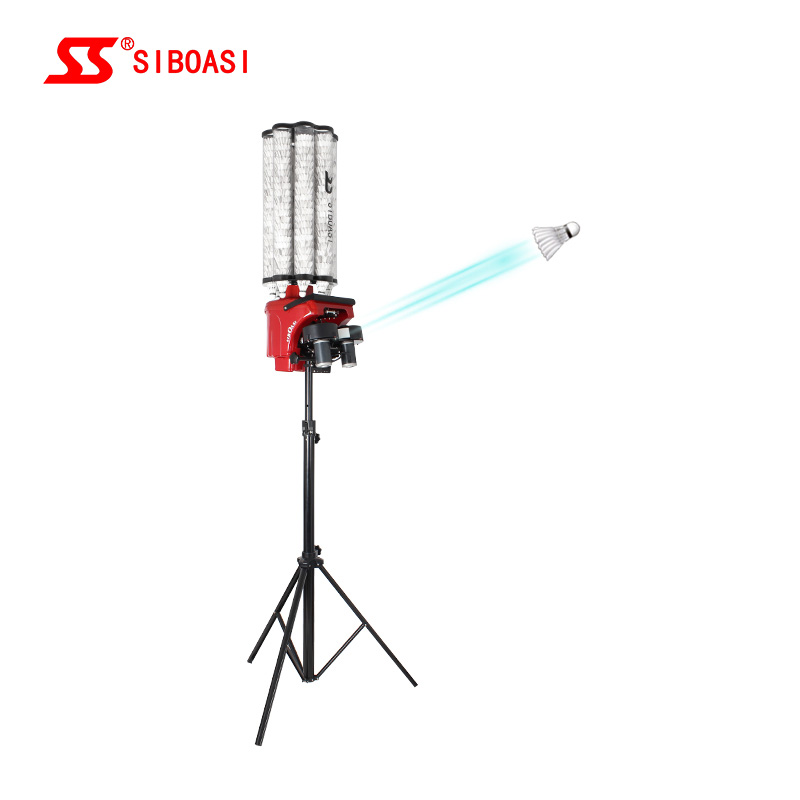 Product parameters of our this badminton training equipment:
Ball capacity: 200 PCs
Wide range of voltage 100V-240V
Dual power supply: AC 100V-240V
Color: Red/black
Power:75 W
Horizontal angle: 33 degree, it adjusted by remote control
The speed can be adjusted from 20km/h to 140km/h and frequency can be adjusted from 1.2s/ball to 4.5s/ball
Carton size: Head machine: 55*50*45cm, shuttlecock holder: 68*35*37cm, tripod: 29*22*145cm
Gross weight: 28 KG
It package in carton with wooden frame to protect the machine without damage during shipment.
Suitable for: Individual, school, club, institution
What is the advantage of the shuttlecock shooter 2025?
This machine suitable for different types of shuttlecock, nylon, plastic, feather or other types of shuttlecocks all can used for the machine.

Large capacity of shuttlecock holder, it can load 200 pcs of shuttlecocks.

With LCD screen remote control, the speed and frequency can be adjusted according to your requirements.

You can adjust the shooting angle manually, it not only can shoot in fixed point position, but also can make horizontal swing shoot, the max shooting height can reach 6 meters.

Training mode: Backhand training, middle training, forehand training, horizontal training, smash training, Backcourt high clear training, Backcourt lob training, flat clear training, Drive training, Drop shot training, Shooting speed diagram.
Accessories:
Remote control, AC power cable, pin for shuttlecock holder, Allen wrench, battery for remote control
After service
Your service rights
1. Free warranty time
Computer head and sensor for 24 months
Mainboard, motor, remote control, charger, shooting wheel for 12 months
Battery and other machine vulnerable parts for 6 months
Accessories products for 3 months
2. Paid repair
Broken due to falling
Failure due to liquid entry
Private repair
Exceeding warranty time
More for this model :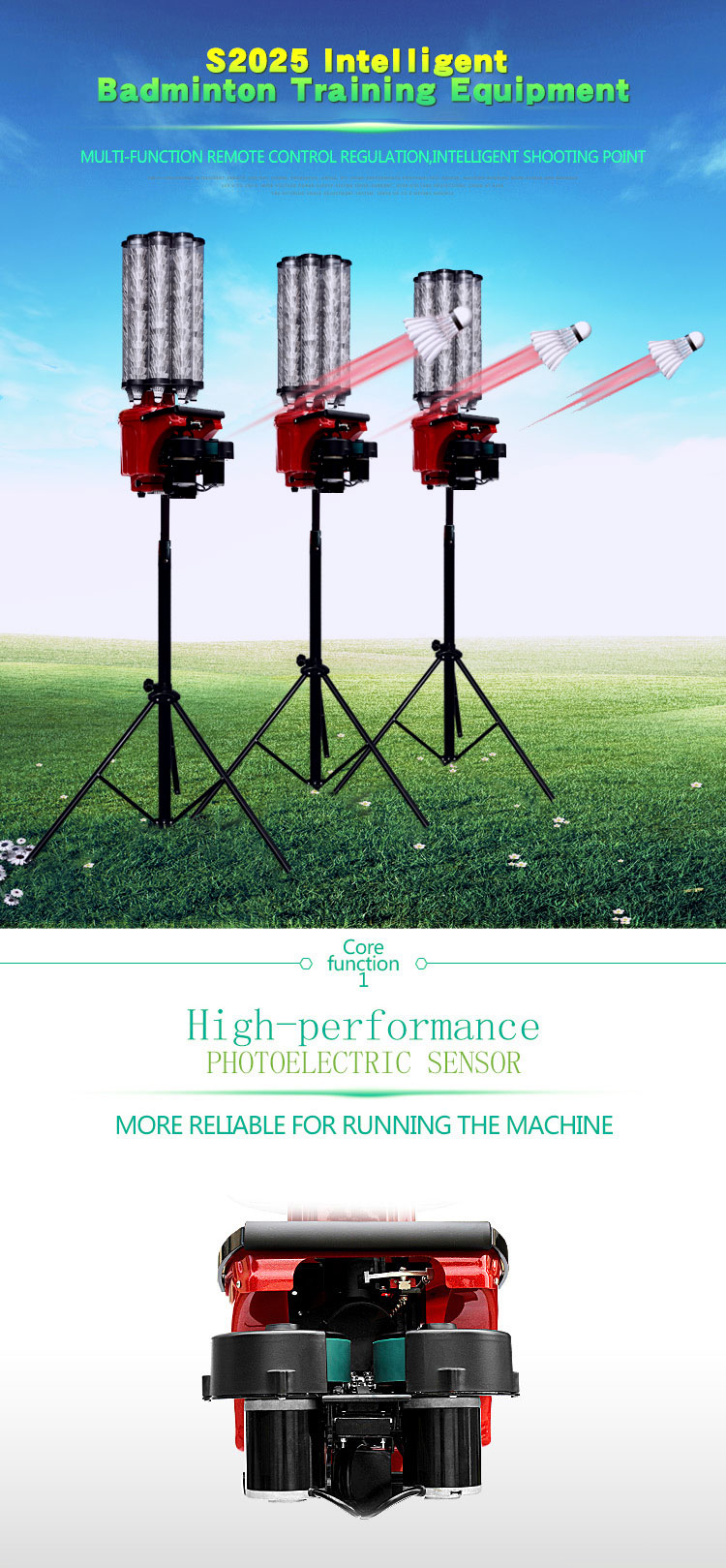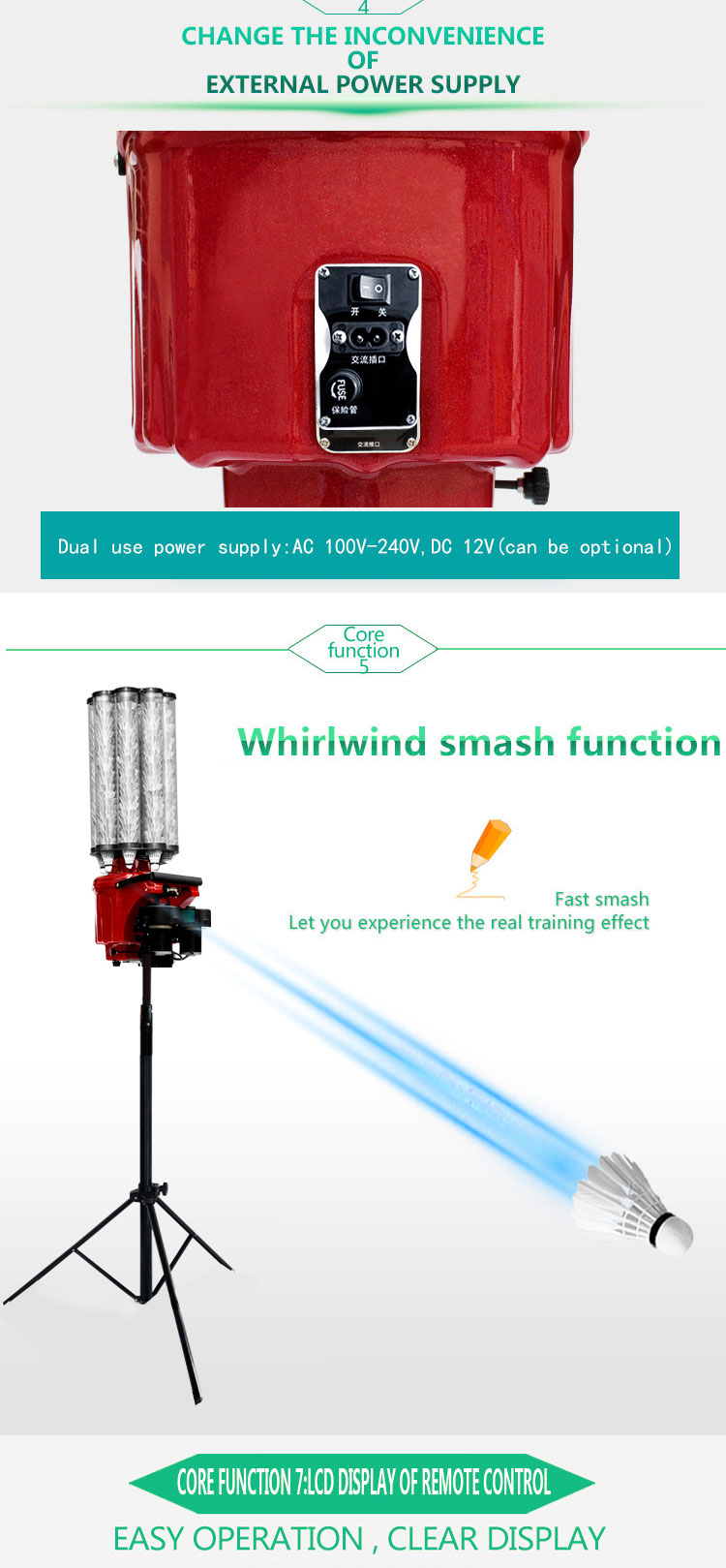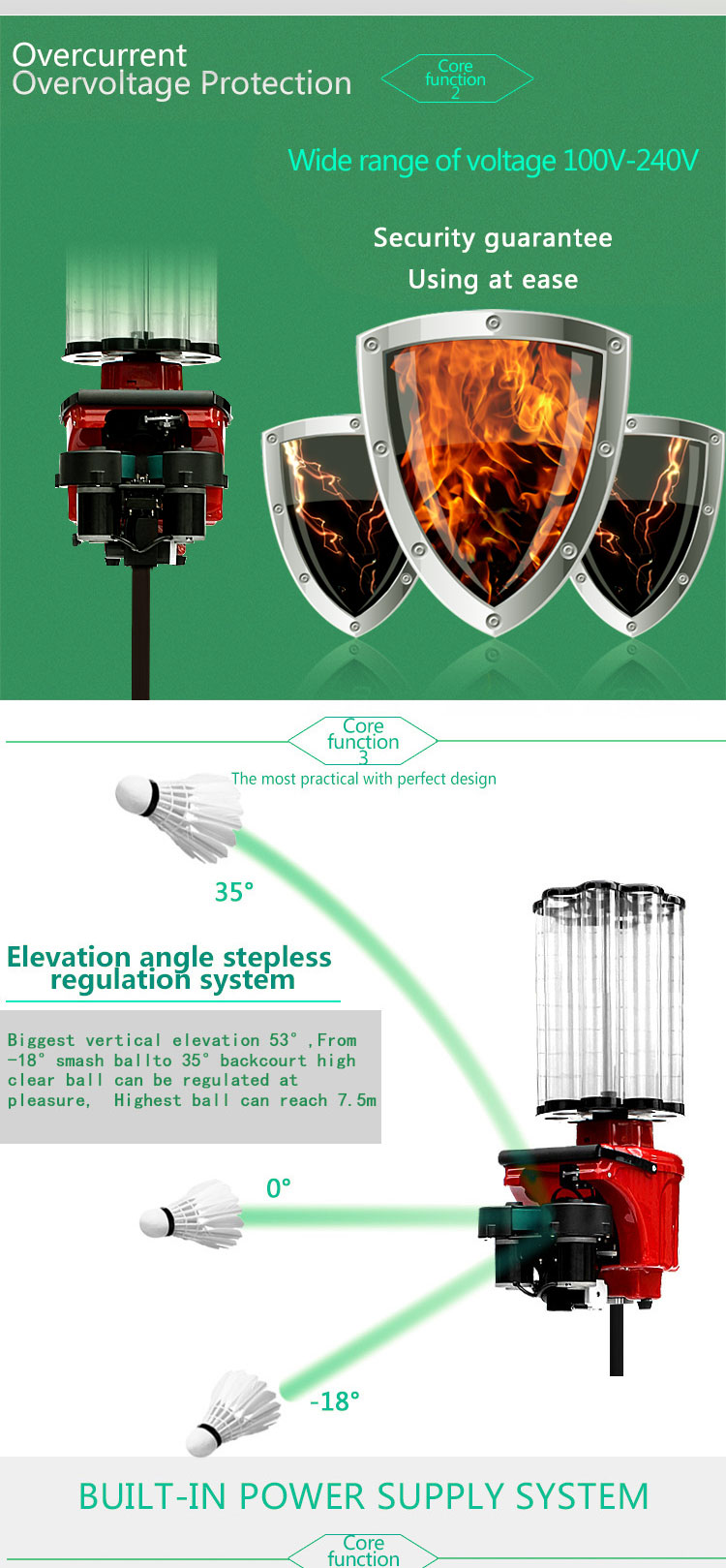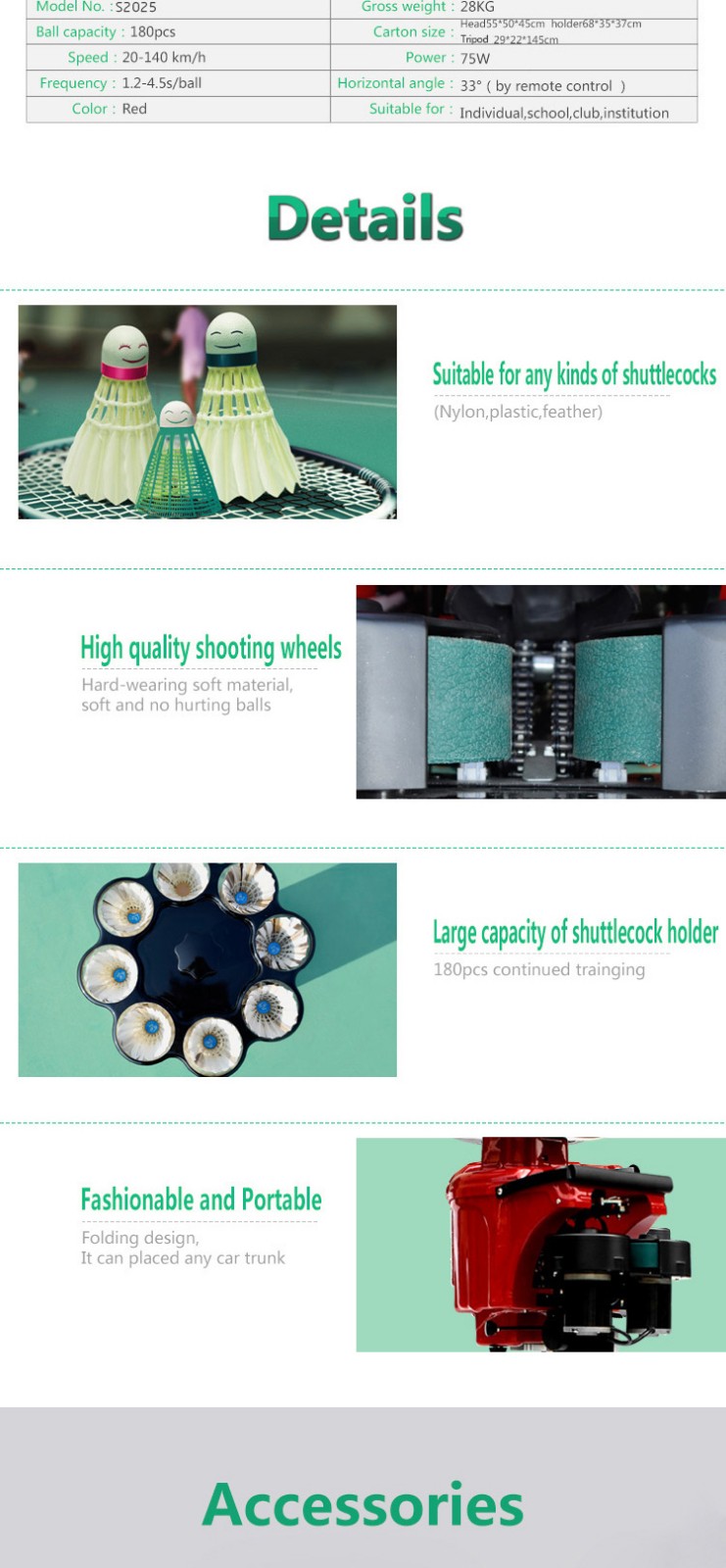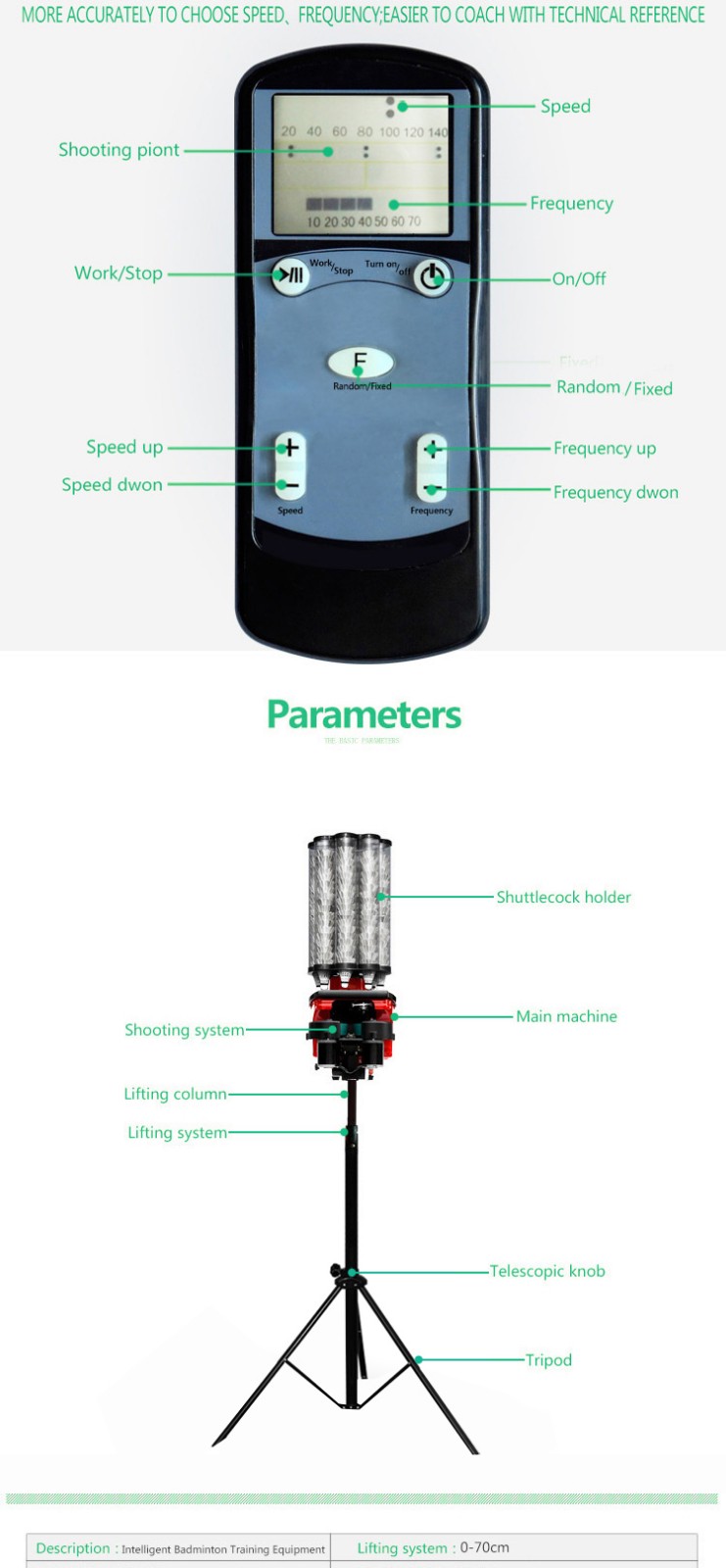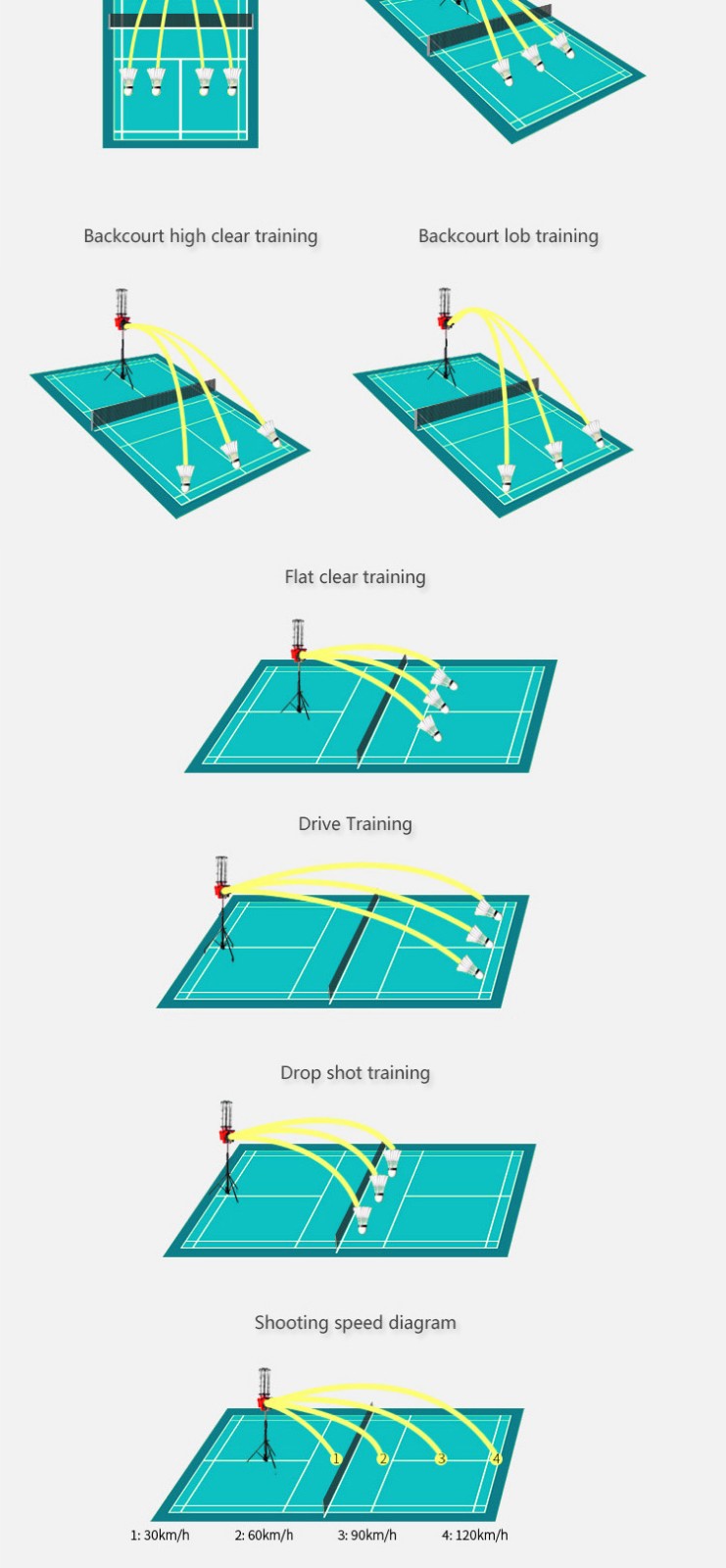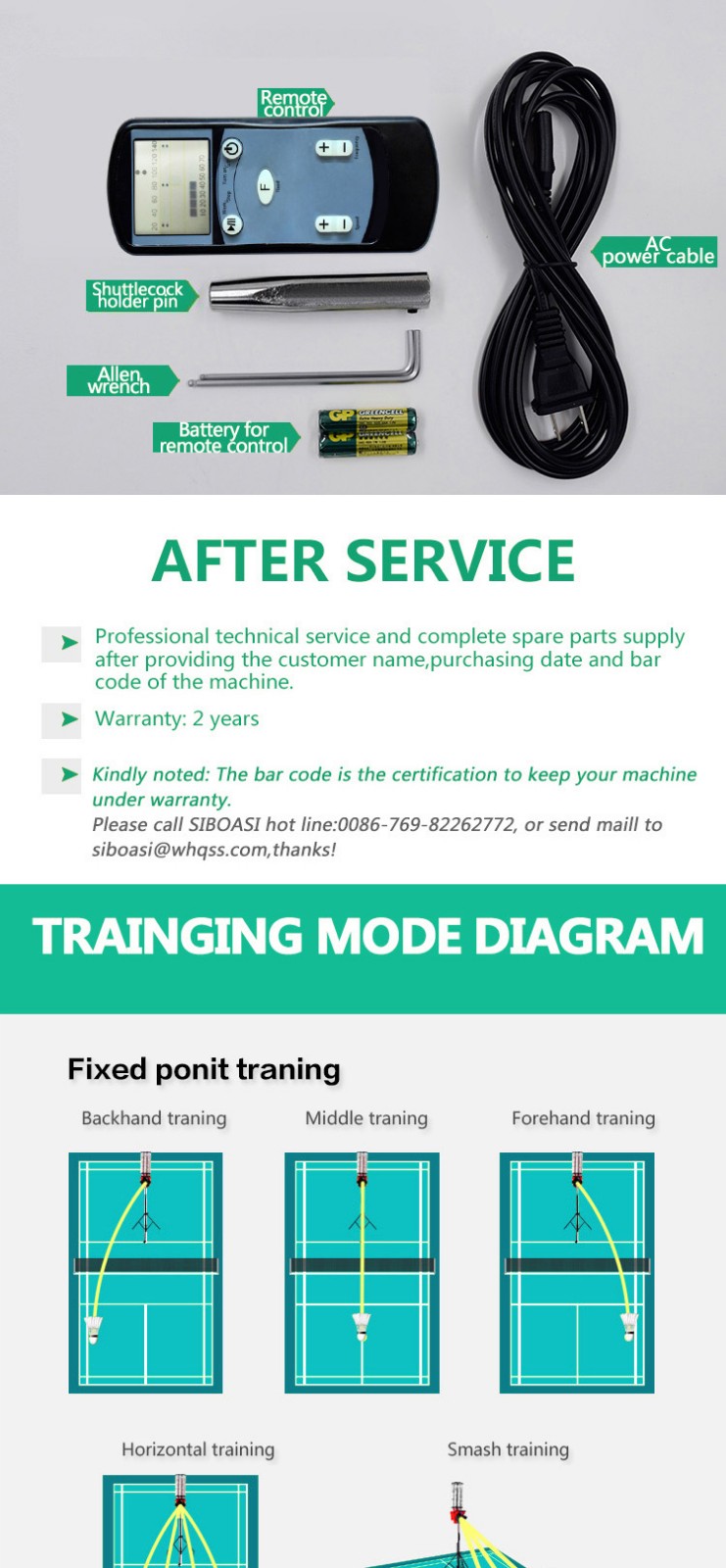 Packing way :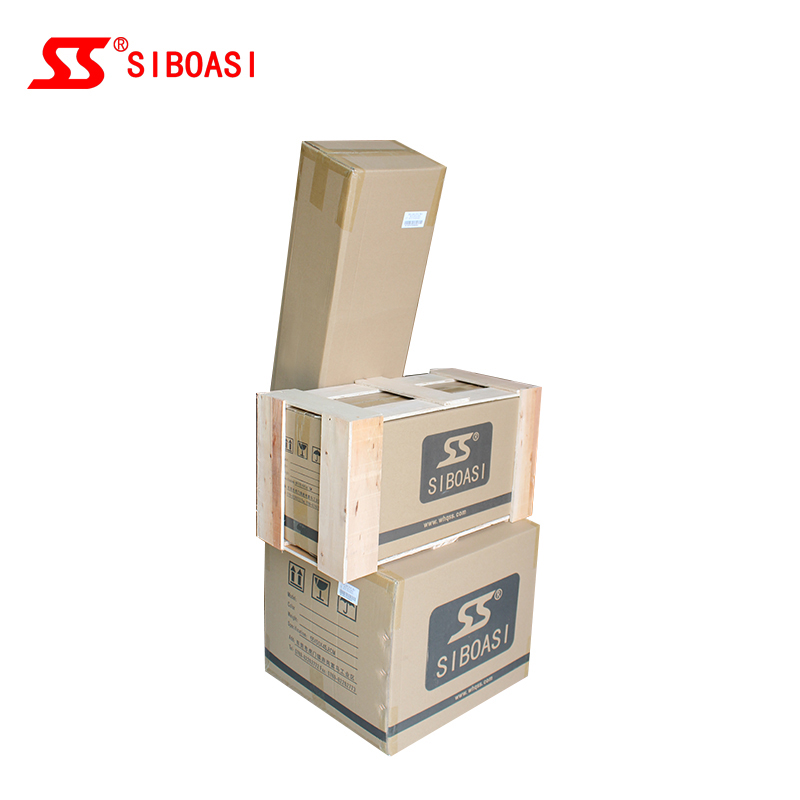 Clients are satisfied with our badminton machine for playing :