Most professional badminton training equipment 8025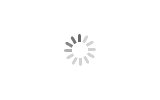 Most professional badminton training equipment 8025
Siboasi

China

In 3 days if small quantity

In stock
This badminton shooter equipmentis with 2 machine shooting heads and
computer control with LCD touching screen for setting 96 kinds of training mode.
It is more suitable for professional training .

Siboasi 8025 shuttlecock badminton equipment model ,
got beautiful design rewards in 2019 .

Siboasi shuttlecock training device is famous in China, quality is kind stable with
years professional experience for ball shooting machine ,and we have 2 years warranty
for all our clients , pressional after-sales service team are available in 24 hours ,
the quality is guaranteed for all clients .
SIBOASI badminton equipment for training :
Professional Tablet Controlled badminton throwing machine S8025: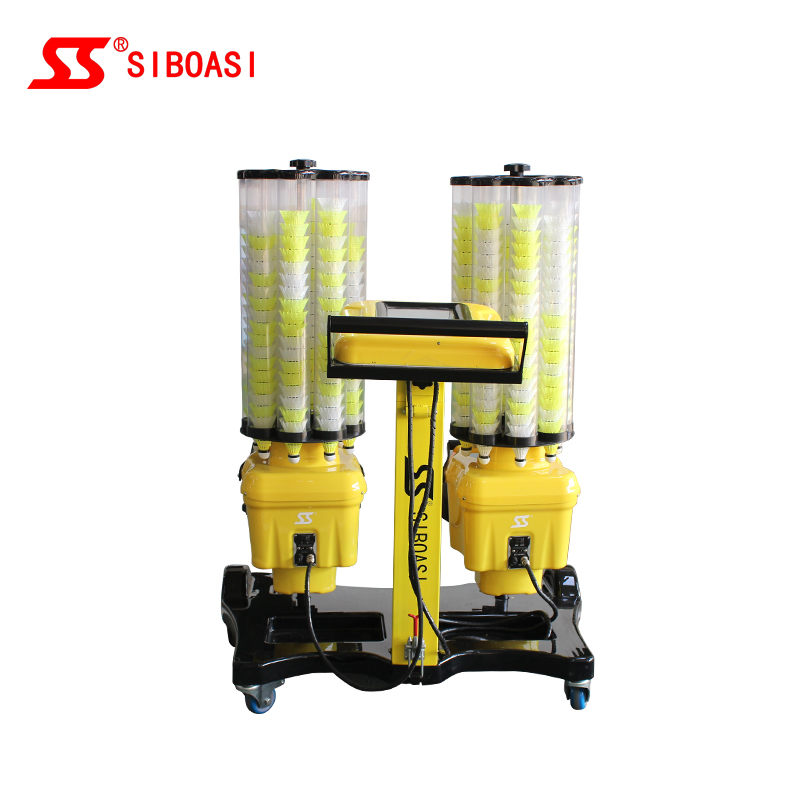 Product parameters
| | |
| --- | --- |
| Ball frequency | 1-8 s/ball |
| Serving height | Highest 7.5 meters |
| Ball speed | 20-140 km/h |
| Elevation angle | 35 ~-16 degree |
| Ball capacity | 360-400 balls |
Badminton feeder S8025 is a smart tablet computer controlled badminton training equipment, it not only has a high-performance LCD touch screen and full digital function layout, but also has an independent automatic lifting system. It can adjust the vertical angle, up to 7.5 meters. One key can select 96 kinds of programming modes to simulate the training mode of the three-dimensional stadium. Players will get more mature skills through the training mode.
This badminton machine that has double-head badminton training machine, it consists of two heads and a tablet computer, it will be your best professional badminton training partner.
Due to the advantages of the 8025 machine's dual heads, it can achieve small balls in front of the net, smashing the vestibule ball, midfield smashing ball, backcourt smashing ball, passing the ball, high far ball, back high ball and other functional balls.
1. What is the capacity of the ball holder?
The capacity is 400 balls, because it has 2 ball holders.
2. What is the frequency?
The frequency of machine is 1-8 second/ball.
3. What is the badminton machine serving height?
No.1 machine:40 CM, No. 2 machine: 40-215CM
4. What is the highest serving height of the badminton machine?
7.5 meters
5. Could the shooting angle be adjusted?
The elevation angle : 35~-16 degree. Automatically adjust arbitrary angle in the field range. No remote controller, Tablet PC controlled all function.
6. How many balls can be loaded?
Ball capacity: 360-400 balls, can be filled with any nylon ball, plastic ball, badminton.
Programming drop point
1. Forehand and backhand netball
2. Front court smash
3. Middle court smash
4. Back court smash
5. Type four-point combination ball
6. Front court netball + Backcourt high ball" combination ball
7."Cross" combination ball
8. Flat high ball
9. Flat ball
10. Backcourt high clear ball
More about :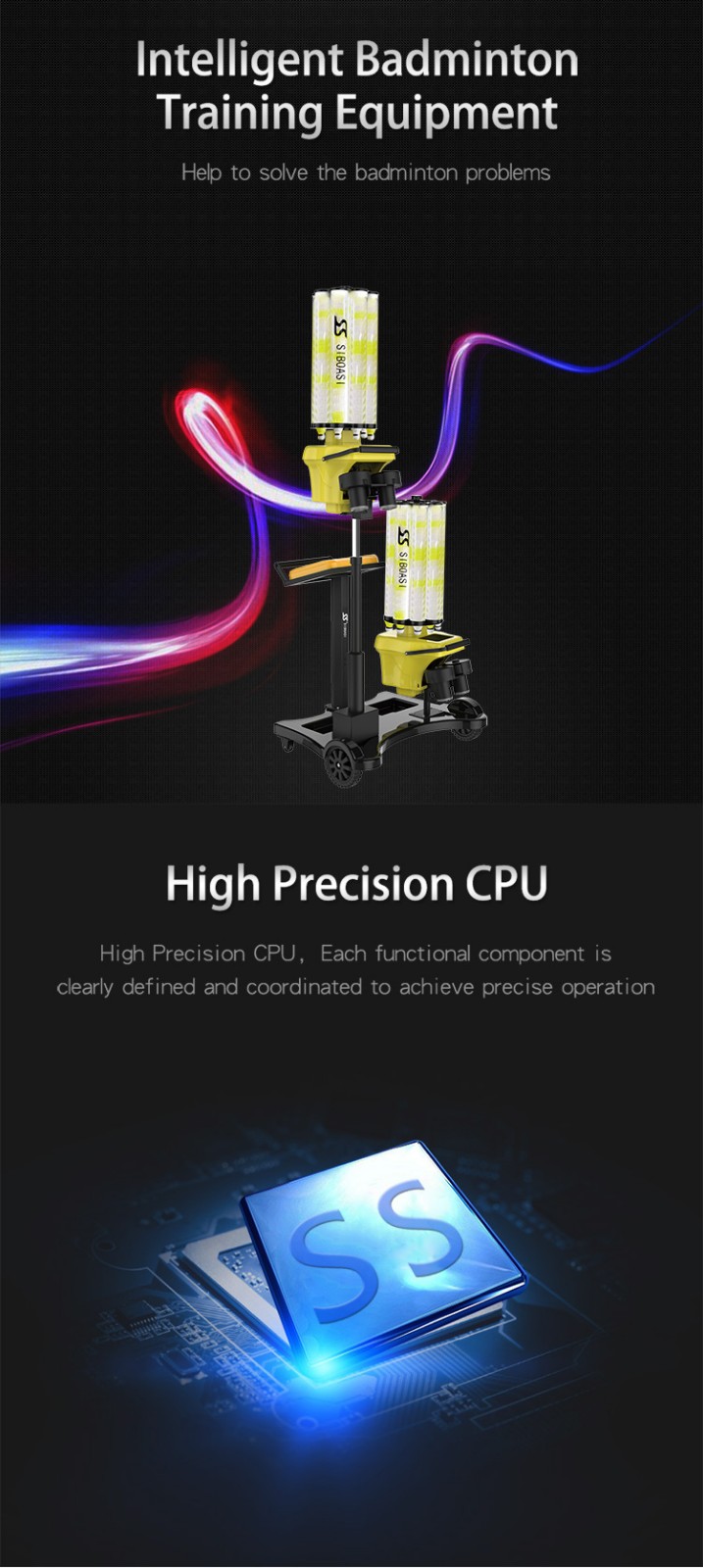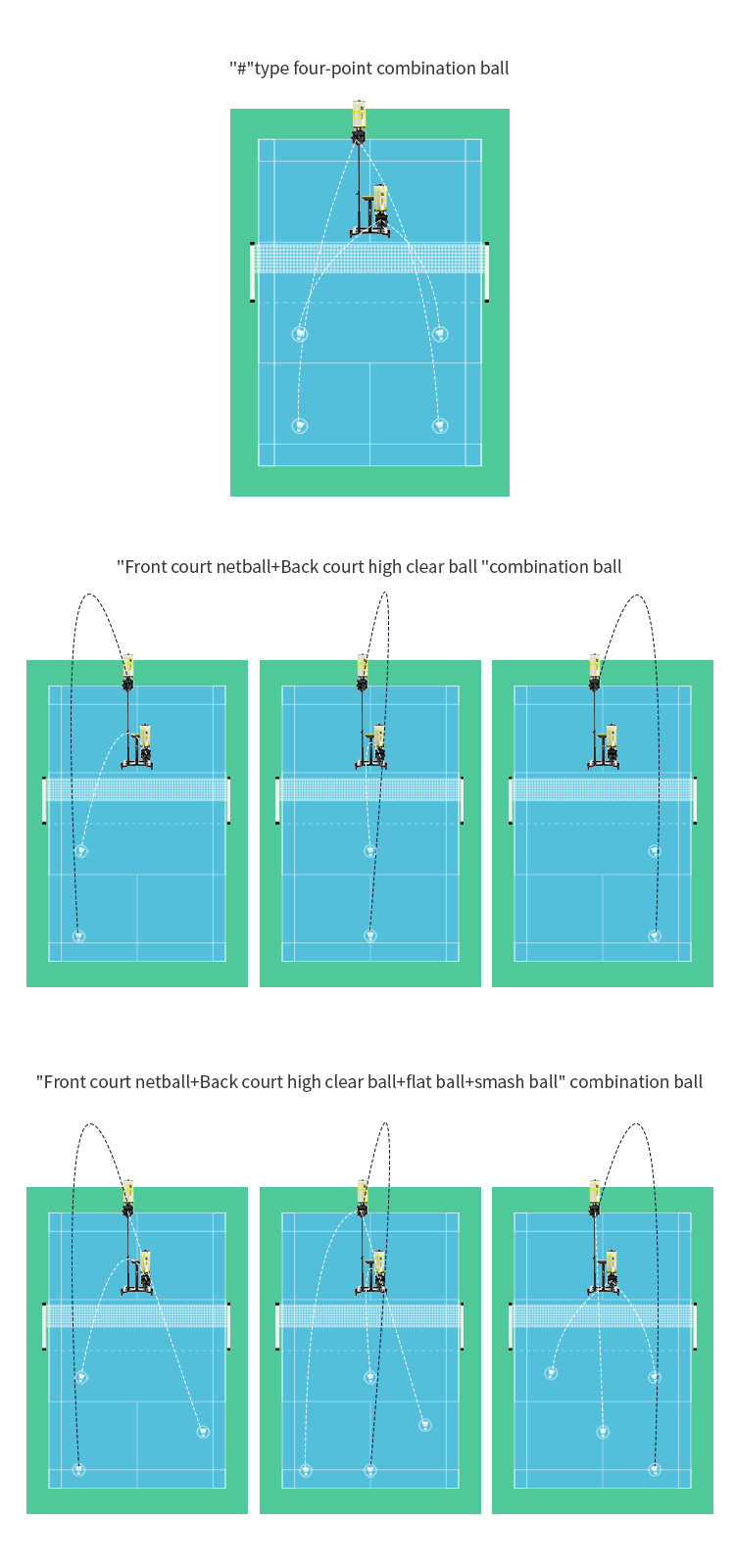 Very good feedback for this model :