S4025 Automatic badminton training machine could play shuttlecock anytime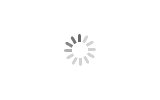 S4025 Automatic badminton training machine could play shuttlecock anytime
Siboasi

China

In 3 days if small quantity

In stock
This badminton feeding machine is with full automatic lifting,
full function high end intelligent remote control .

Siboasi 4025 shuttlecock shooting machine model is with charging battery,
could play outdoor . Every full charging ,could last to play in about four hours.

Siboasi brand badminton equipment is famous in China, quality is kind stable with
years professional experience for ball shooting machine ,and we have 2 years warranty
for all our clients , pressional after-sales service team are available in 24 hours ,
the quality is guaranteed for all clients .
shuttlecock feeding machine Siboasi Brand-S4025 :
Full function badminton machine shuttlecock feeder S4025 :
This badminton practice machine badminton launching machine has full function intelligent remote control, full automatic lifting. The serving height is up to 7.5 meters with perfect smash function. Intelligent drop point programming, self program different modes of training. It act as a role of coach.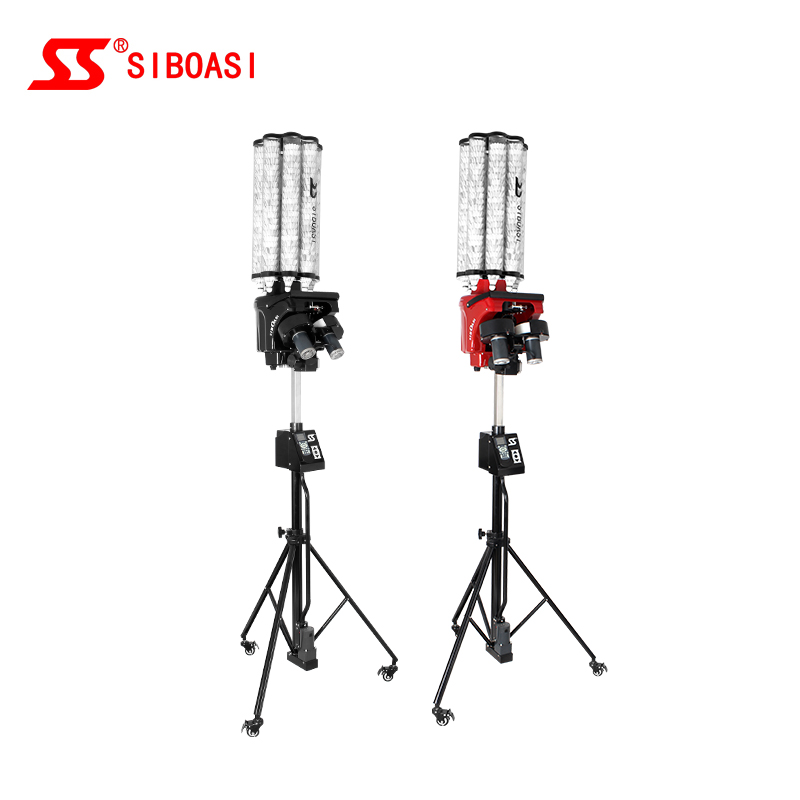 Product parameters :
| | |
| --- | --- |
| Place of Origin: Guangdong, China (Mainland) | Brand Name: SIBOASI |
| Model Number: S4025 | Type: Badminton Shuttlecock Machine |
| Color: Black | Speed: 20-140 km/hours |
| Frequency: 1.2-4.5seconds/shuttlecock | Lifting system: Adjustable 0-70cm |
| Power: machine 120W, electric lifting 25W | Power: AC 100-240v, DC: 12V |
| Ball capacity: 200 pcs | Lifting extension: automatic, 70 cm |
| Vertical angle: 35~-18 degrees | Horizontal angle: 33 degrees |
| Battery lasting: 3-5 hours | Certification: CE, SGS |
More about :
The badminton serving machine S4025 can be used for daily exercise, but also for professional training for our professional players.


It is a single computer head badminton training machine, the case of the machine is made of ABS material, we have black and red color for choosing, and the serving wheels are made of rubber, which can reduce the wear on the ball and make the serve more powerful. Above the machine is a ball cage column, which is used to place the ball cage, the ball cage can be disassembled freely, it is convenient for loading the shuttlecocks.

This shuttlecock feeder has an automatic lifting function. It does not need to be adjusted manually. It is very convenient. This can be raised to 2.25m. In the middle, there is a lithium battery, so this machine has a built-in battery. If you can't get electricity, you can also run the machine directly through the battery. The battery capacity is 30mAh and the voltage is 12V. In the case of electricity, the duration of use can be up to 3-4 hours. We look down along the machine. Its chassis is supported by a tripod. There is a telescopic fixed button. You can adjust the angle of the tripod through this button. There are moving wheels under the tripod, and all three wheels have their own brakes. We can push the machine anywhere and fix the machine.
Pictures showing for more details :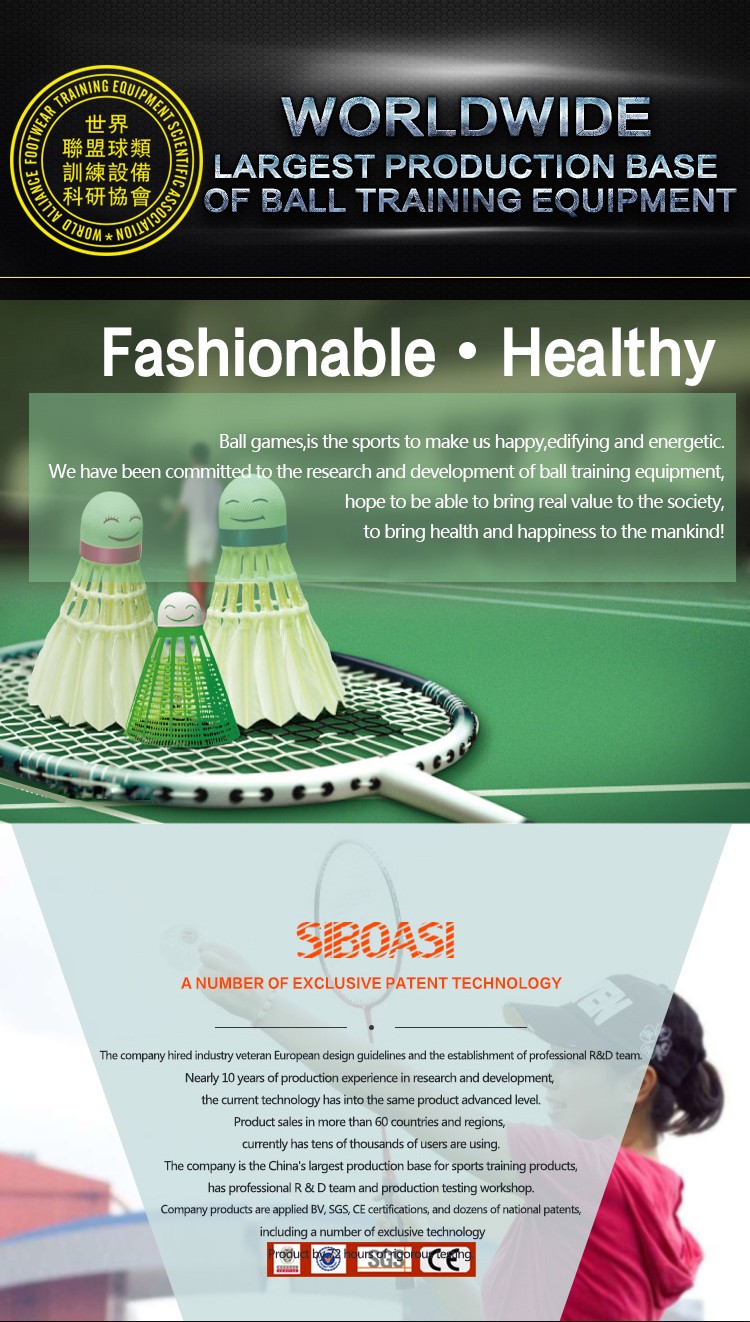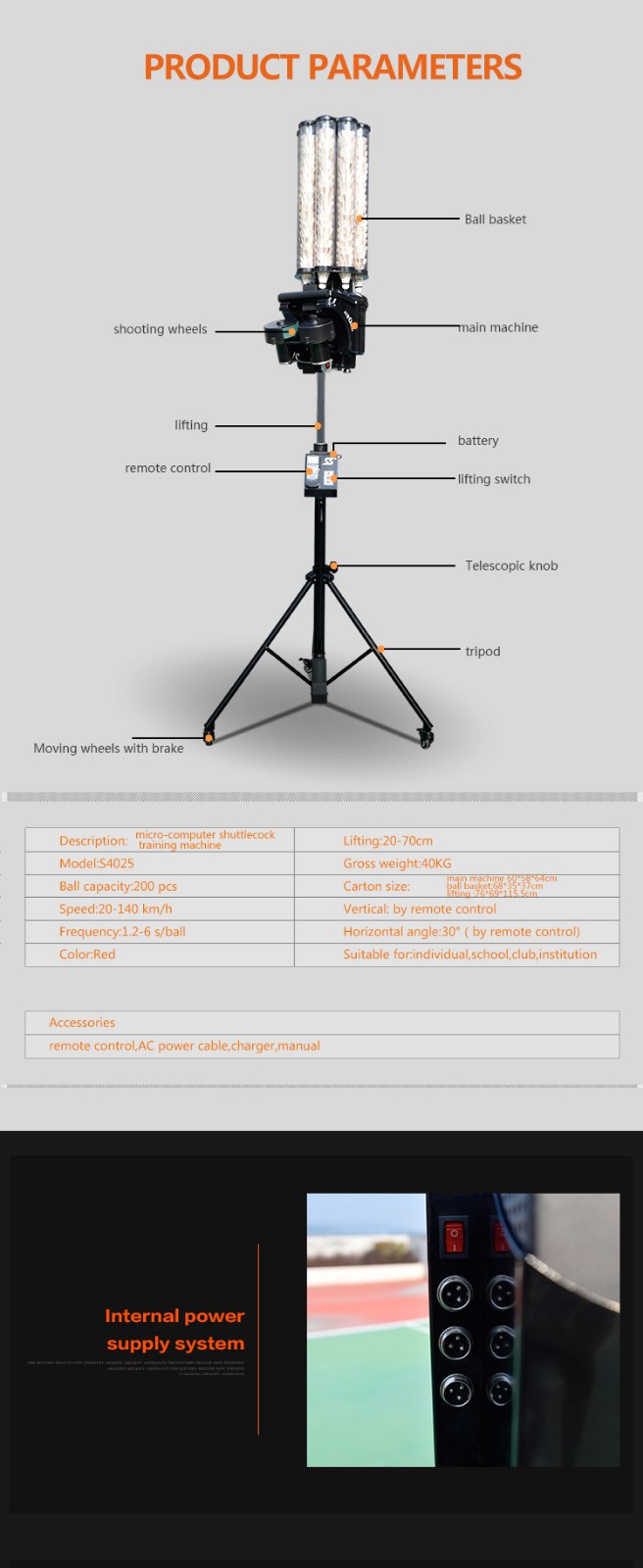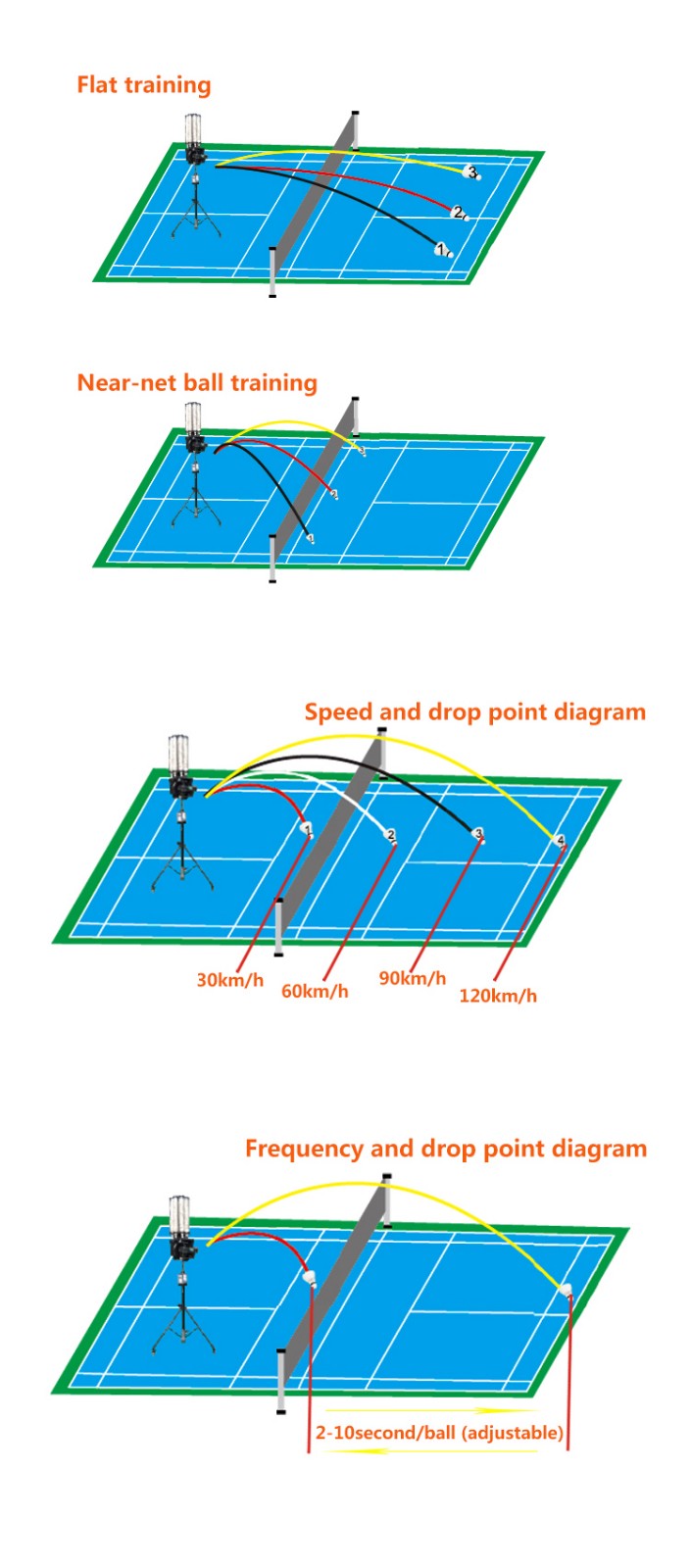 Siboasi badminton trainer machine got very good feedback from clients :