Training badminton feeding machine equipment H7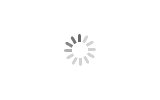 Training badminton feeding machine equipment H7
Siboasi

China

In 3 days if small quantity

In stock
Badminton shooter H7 model is with manual lifting ,
high techonogy sensor,pause function, not bad price for this model.

H7 siboasi badminton launcher equipment is suitable for playing,training,
learning, coaching, tutoring etc. , any material of ball is no problem for
our badminton machine.

Our badminton coaching shooter is popular in China, quality is kind stable with
years professional experience for ball shooting machine ,and Siboasi have 2 years
warranty for all our clients , pressional after-sales service team are available in 24 hours ,
the quality is guaranteed for all clients .
Hign end badminton playing equipment
Badminton throwing machine :
Intelligent Shuttlecock Shooter H7 :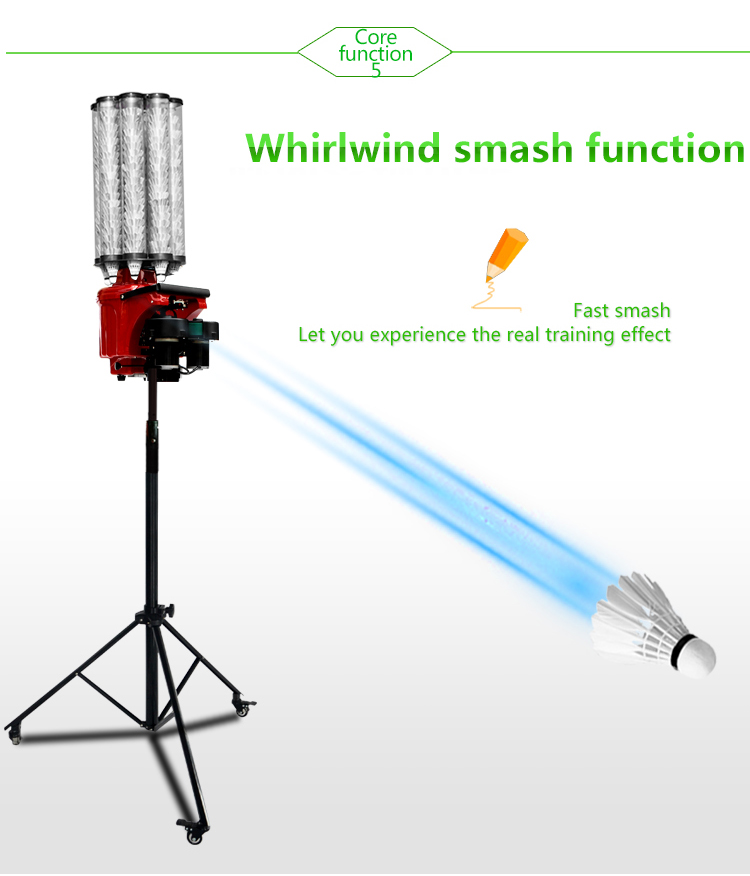 | | |
| --- | --- |
| Description : Micro-computer shuttlecock training machine | Gross weight:28 KG |
| Model: Badminton Machine H7 | Carton Size: 55*50*45CM/14*14*131CM/65*30.5*32CM |
| Ball capacity: 200 pcs | Power: AC 100-240V, DC12V |
| Speed: 20-140 km/h | Horizontal angle: 30 degree |
| Frequency: 1.2-6 s/ball | Suitable for: individual, school, club, institution |
Product Parameters
(1) Voltage : AC 100---240V
(2) Speed: 20-140km/hours
(3) Frequency: 1.2-4.5seconds
(4) Elevation : Manual
(5) Horizontal : Automatic by remote control
(6) Shooting direction : External
(7) Ball capacity : 180pcs
(8) Color : Black
(9) Lifting : 0-85cm
(10) Power : 100W
The badminton serving robot can realize multiple ways of shooting: heavy board smash /bottom line high ball /flat ball, etc; it also has multi-variable shooting: variable frequency /variable route, random combination shooting; it can realize uninterrupted continuous serve and automatic serve.
The intelligent characteristics of this badminton shuttlecock feeder are mainly embodied in the control system adopts the structure of upper and lower main machine, and the fuzzy expert system is used to determine the serving parameters. It can adjust the strength and direction according to different weights and different qualities of badminton to achieve good serving consistency.
Questions:
1. Is it can play smash ball?
Yes, it can play high ball,net ball, flat ball, smash ball, etc, because the frequency, speed and drop point can be adjusted. No matter you are beginner or professional players, it is suitable for you.
2. What kind of shuttlecocks I can use?
This machine suitable for different types of shuttlecock, nylon, plastic, feather or other types of shuttlecocks all can used for the machine.
3. What is the frequency of the machine?
The serving frequency of this machine is about 1.2-4.5 seconds.
4. Can we adjust the height of the machine?
Yes, the height of this badminton shooting machine can be adjusted manually, it is very convenient.
5. How can I make payment if I want to place order?
We accept paypal, western union and bank transfer.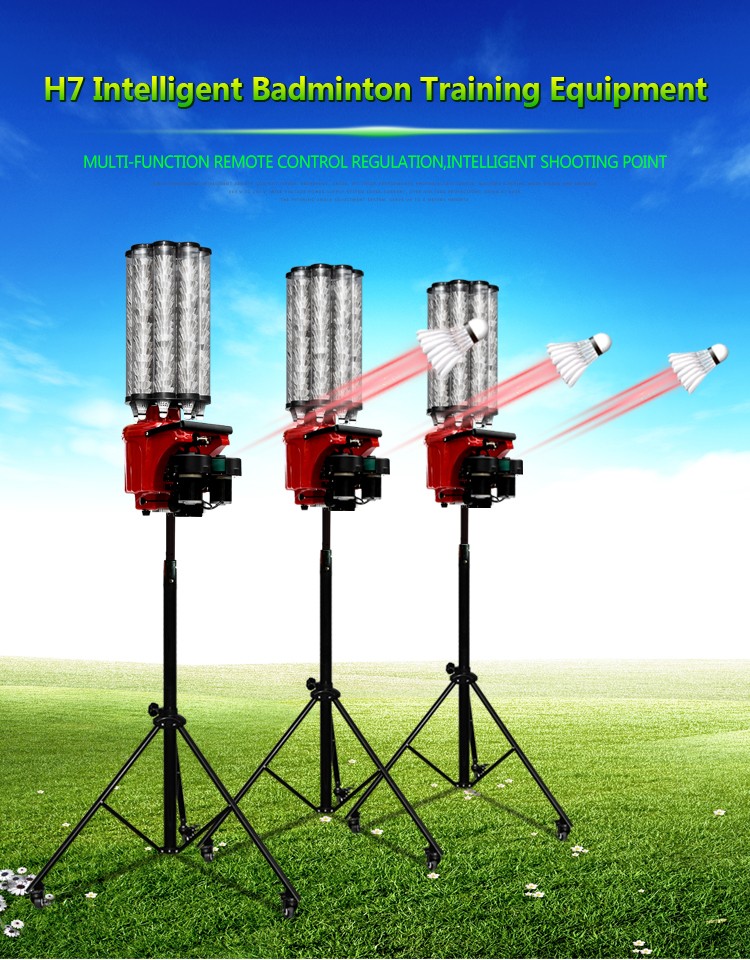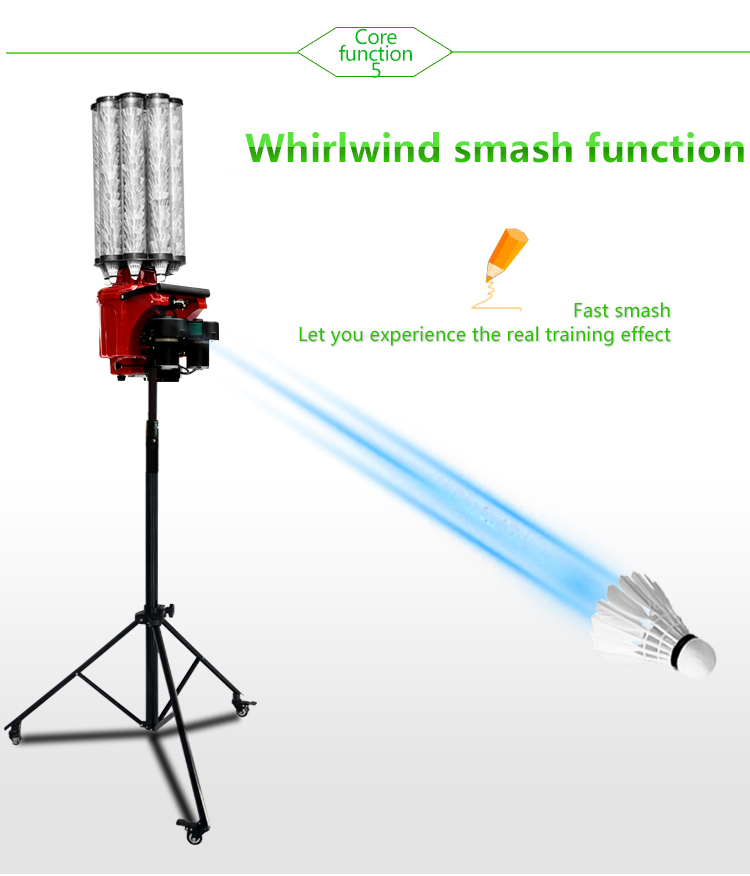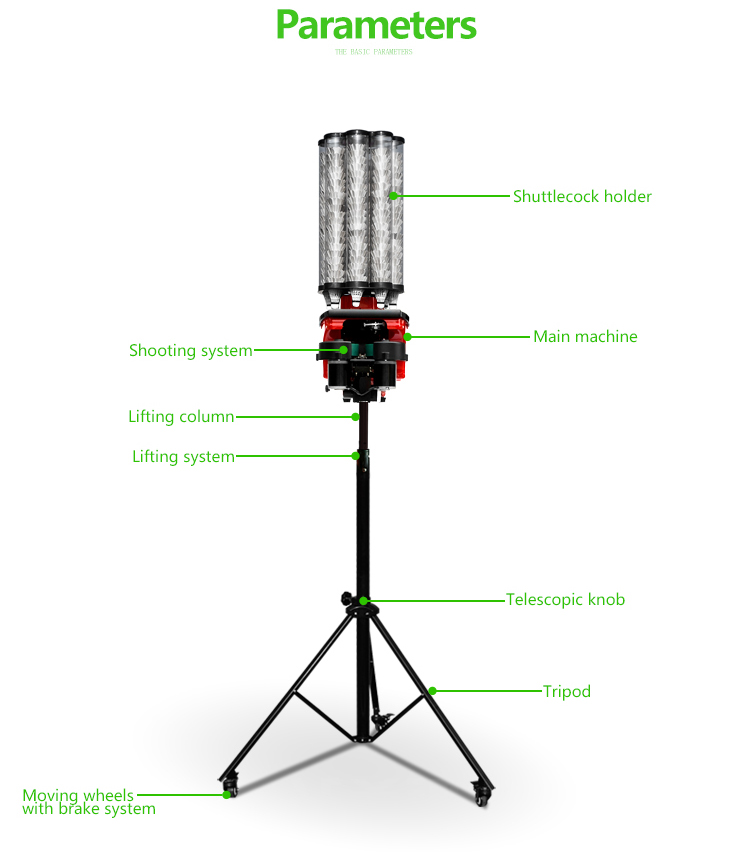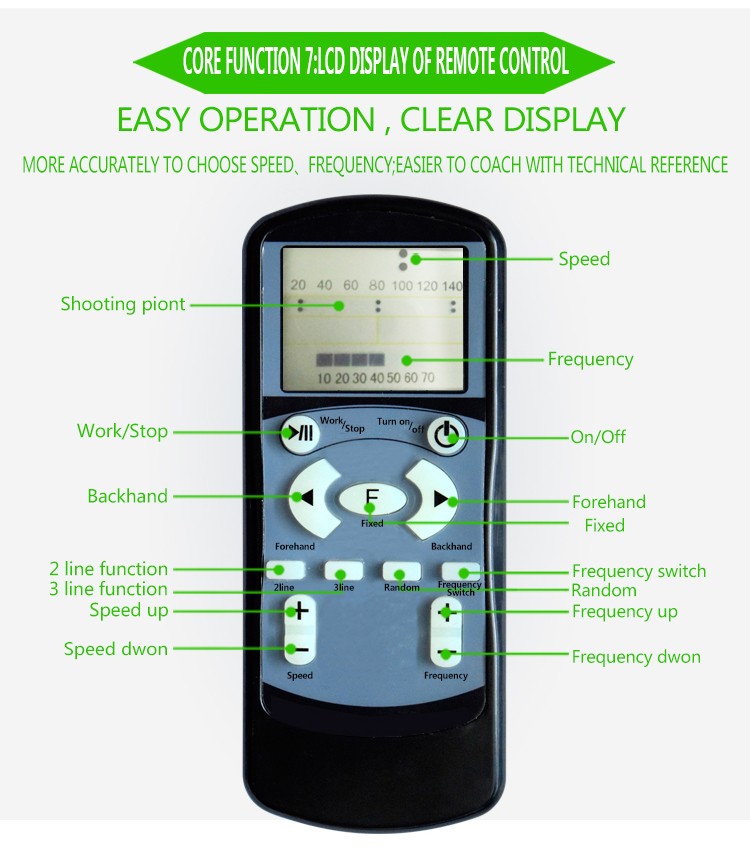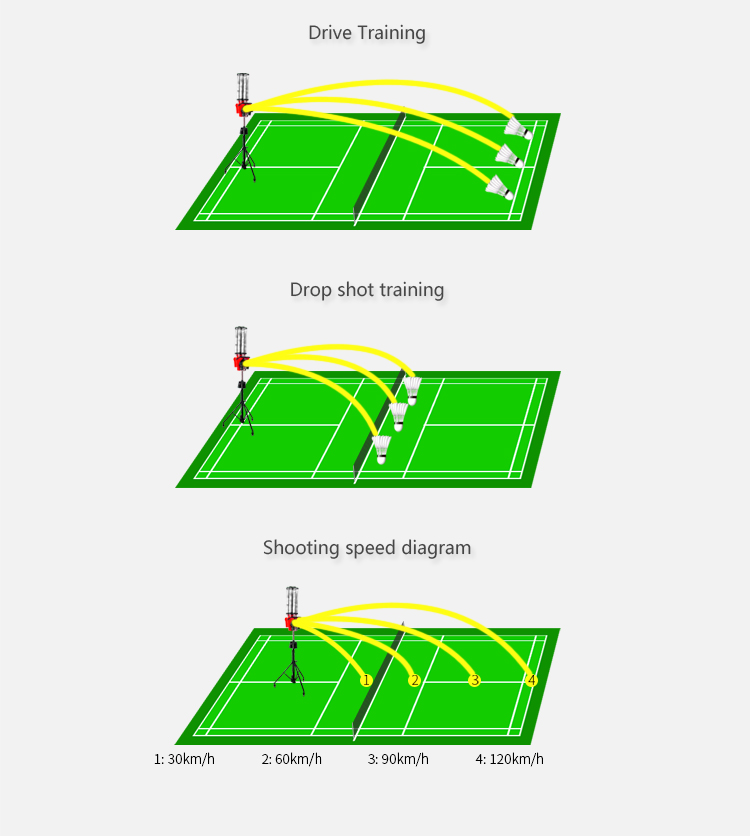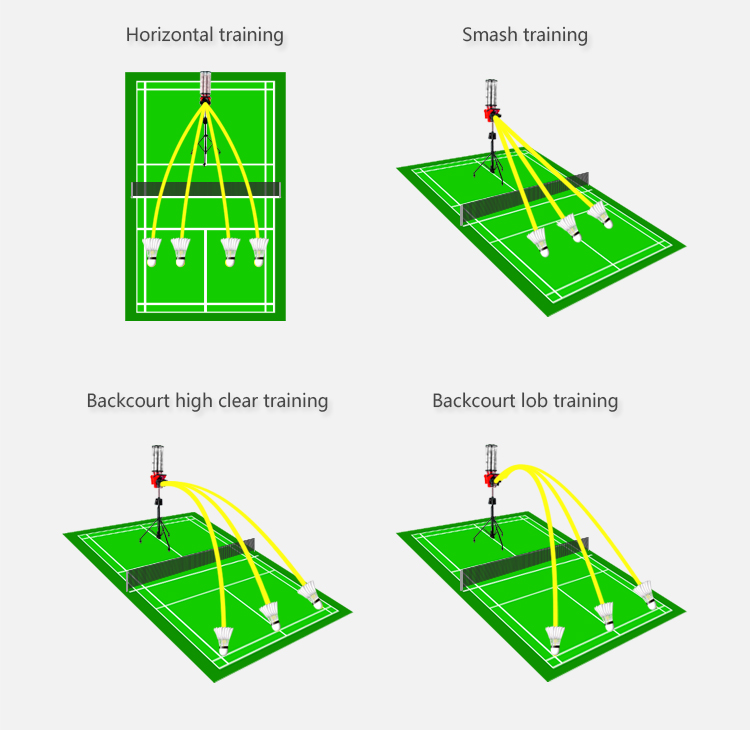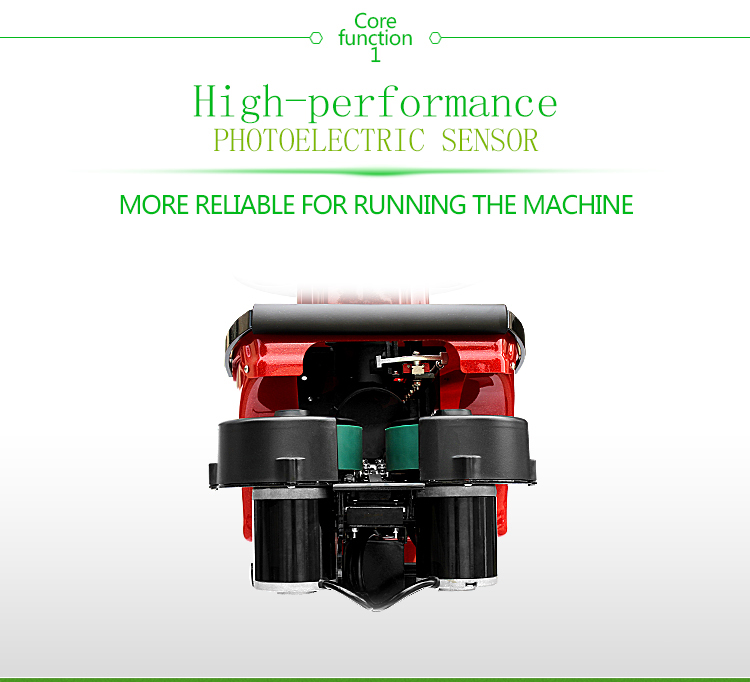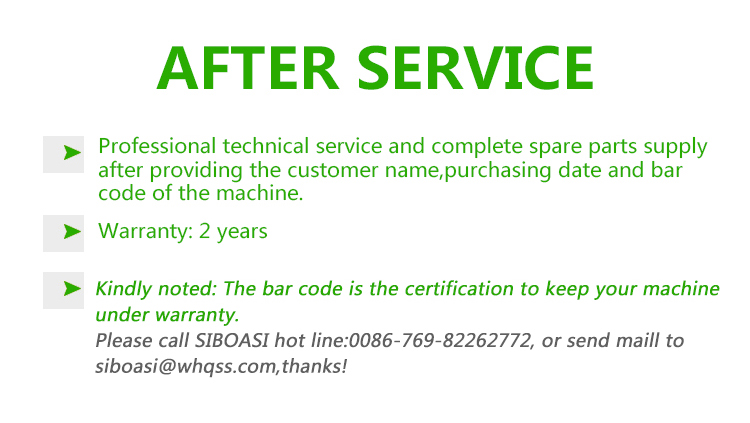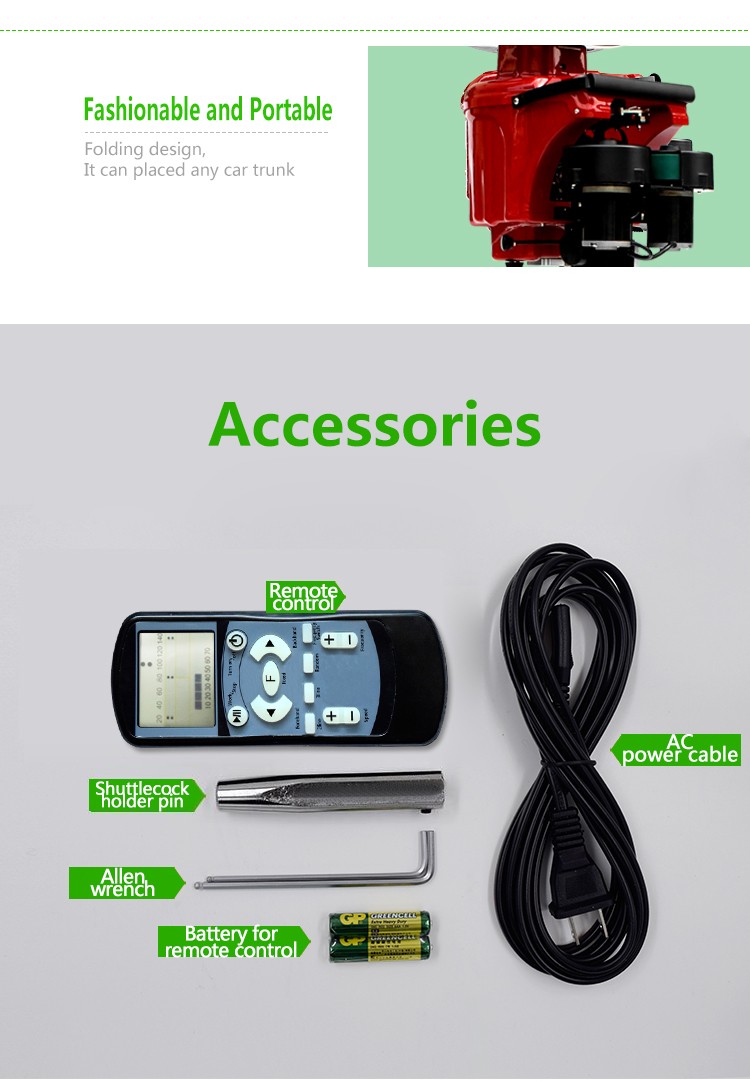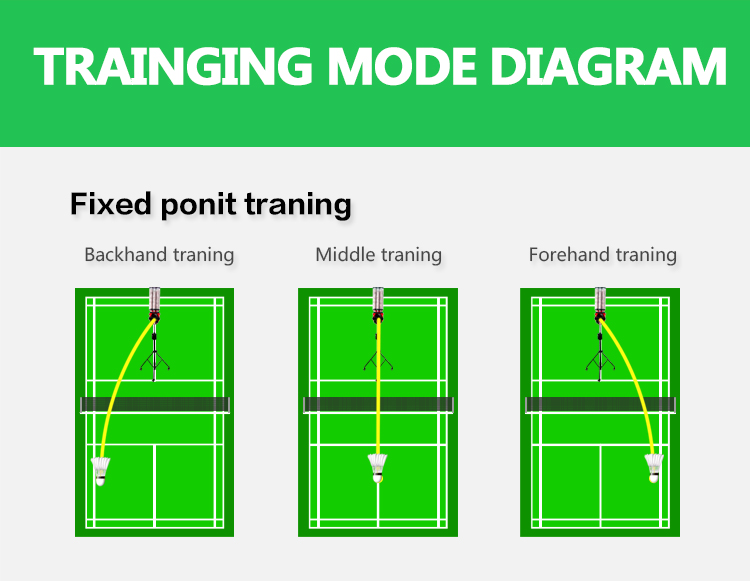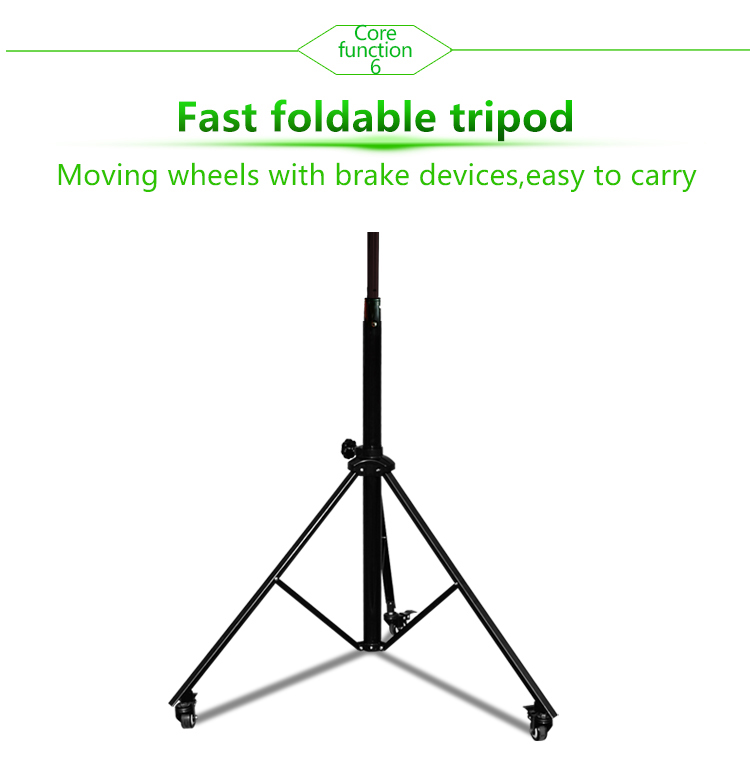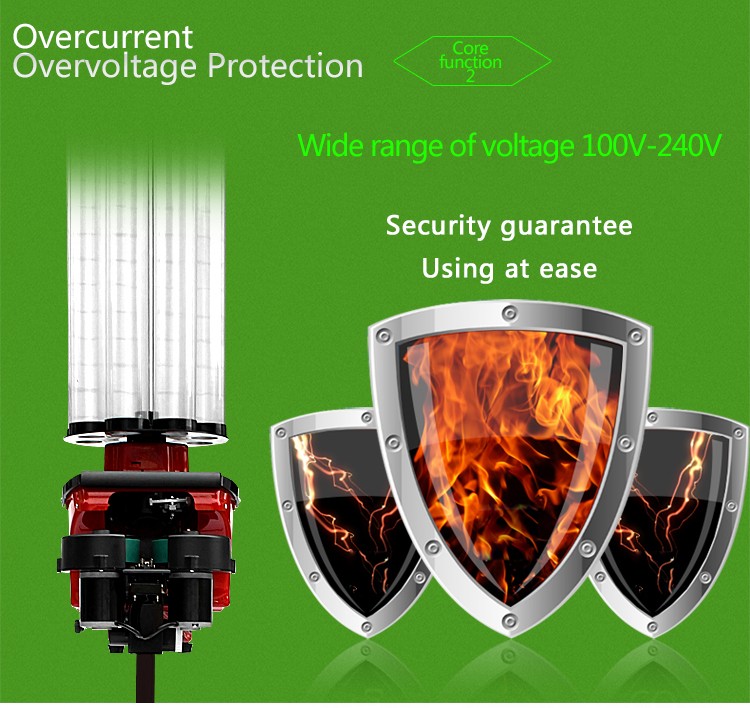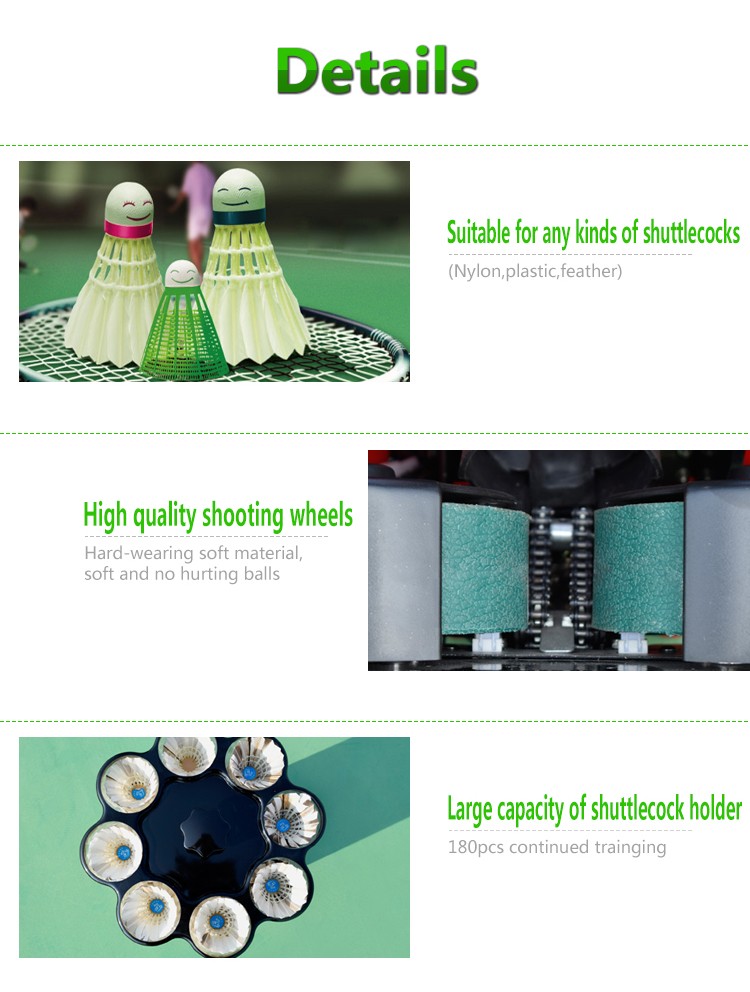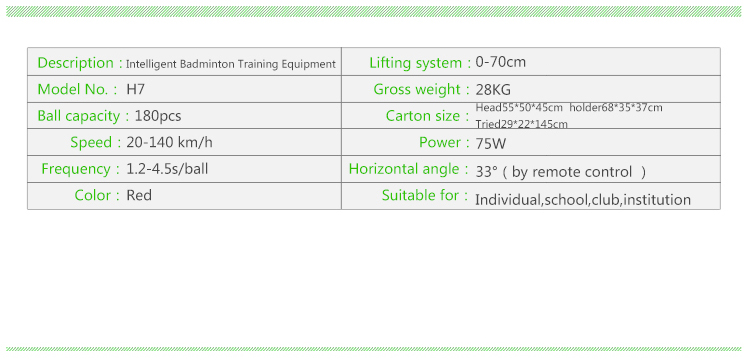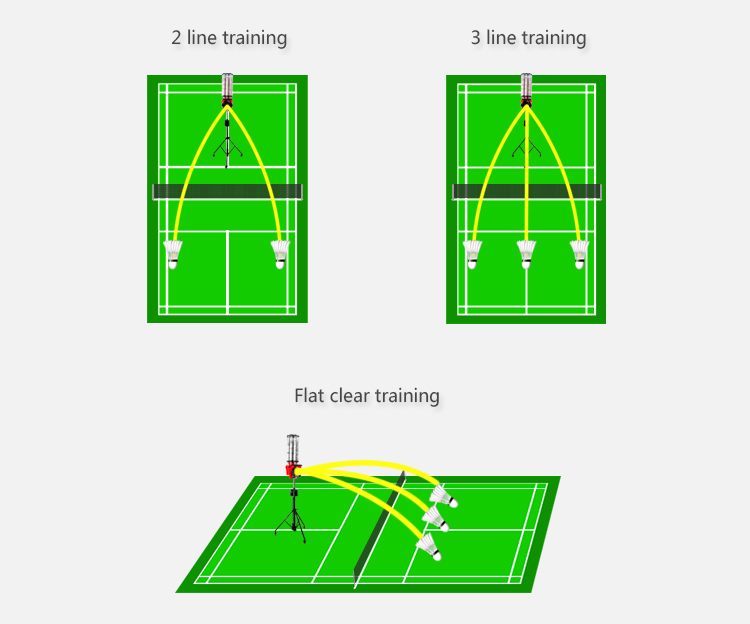 Safe packing for badminton trainer equipment :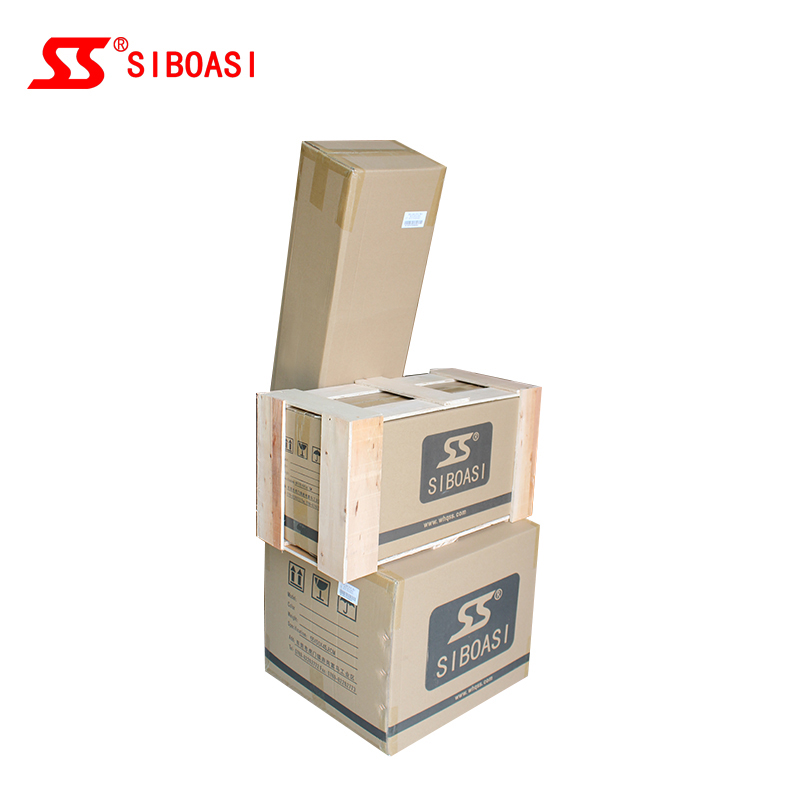 Satisfied feedback from Clients who bought our shuttlecock equipment :